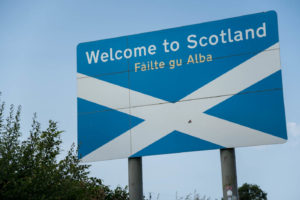 We have encountered both pleasant and unpleasant things in Scotland. We had the opportunity to stay with many different people during our month-long trip which was definitely part of the pleasant experience. To start we want to thank all those people who took us in and for the lovely times we had.
Before starting our cycling trip from Glasgow we visited Sami's uncle and his family who had been living in the UK for a long time already and who moved to the South of Scotland a few years ago. It was wonderful to meet again after many years and to have time for each other and conversations. In Glasgow we stayed with Margo who herself went on a long cycling trip back home from New Zealand. It was fascinating to discover that we shared many experiences, for example the sometimes overwhelming hospitality in Iran. Margo escorted us out of the city and showed us the best cycle path forward.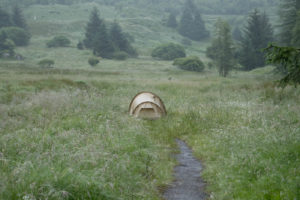 After leaving our first cycling host behind us we wild camped for the first time in Scotland and encountered the vastly less pleasant inhabitants – midges. They are little insects similar to fruit flies in size. The two main differences however are that they bite and that at some places they occur in uncountable quantities, mostly on overcast days and at dawn when there is no wind. Exactly those were the conditions during our first night of wild camping. It was raining and we sought shelter underneath a few trees to cook. There was no shelter from the midges though. The insect repellent we had brought did not seem to work the slightest and so we were sitting in the rain with wet feet and had a huge swarm of midges around us. When the food was ready to eat we picked up the pot and fast-walked around with it. The midges are too slow to keep up if you move constantly. In that moment we recalled how Margo told us that midges have ruined entire holidays in the past. Luckily we were not at that point. Nearby a Scottish family camped as well. We were surprised to see that they also did not have any insect repellent; one man had red legs from all the bites. Also they did not seem to care about the rain, they sat outside without any rain coats, all their gear lying around and their tents were open.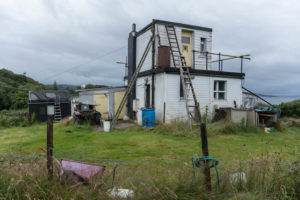 We were happy that we had the opportunity to stay with Leo after the uncomfortable first night outside. He lives in Oban at the West Coast in an old World War II watch tower. Scattered around his house are different machines and the upstairs part of his building is only accessible via a shaky ladder outside. We weren't able to find a bell and were unsure if we were at the right place. A moment later though Leo found us and welcomed us warmly. I'd describe him as a versatile tinkerer who has many interesting stories to tell. We enjoyed our evening together and swapped stories of our journeys and lives. We would have liked to stay longer but we wanted to see many different places in Scotland and that meant we had to move on.
Mull and the coast to Skye
On the island of Mull we took part in a boat tour hoping to observe some wildlife. Unfortunately we didn't get to see any whales but we were lucky enough to see a big pod of dolphins, seals and an eagle.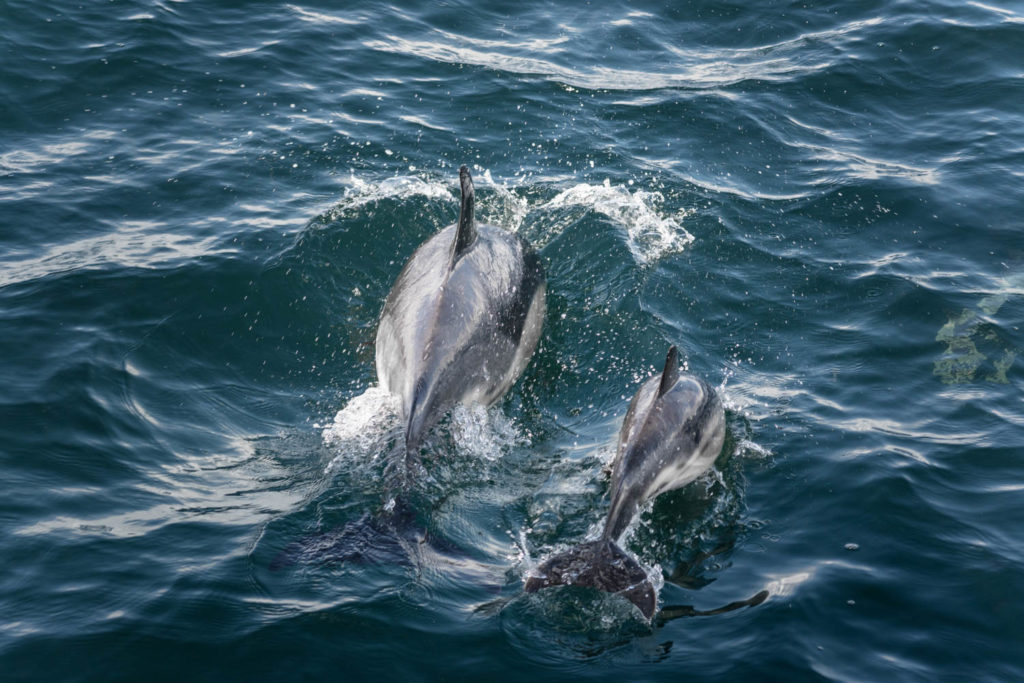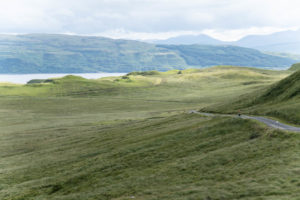 Back on the mainland we followed the coast northwards and the roads were getting smaller. Especially the coast south of Skye was beautiful to cycle on. A minor road meanders through the hills and along the water. It is mostly single-track with wider bits for oncoming or faster traffic to pass. The Scottish drivers especially were very considerate and many of them waited patiently until they were sure they could pass us safely. This was quite a contrast to how drivers usually behave on roads.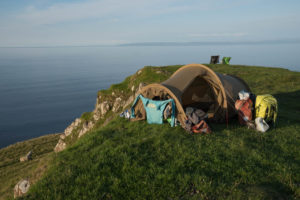 On Skye we treated ourselves to another night on a campground after our second night of wild camping was quite unpleasant as well. It did not rain that second night but the midges were relentless. We had bought the local repellent in the meantime but it didn't seem to help significantly more than the one we already had. The beasts seemed unimpressed. We had encountered many blood sucking insects such as the little flies in Mexico but midges were by far the most horrible of all. We gave in and purchased head nets for both of us and that brought the desired relieve. We also decided that we would use campgrounds more often because usually there were fewer midges around and sometimes there was a closed shelter available for cooking and eating.
The stretch along the Northern coast of Skye was very impressive. There is a mountain range and the coast is quite rugged with steep cliffs. There we found the most beautiful wild camping spot of all our travels. We enjoyed some sunny days with a little breeze.
Outer Hebrides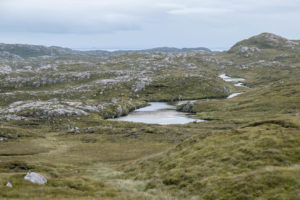 From Uig to Tarbert we took a ferry, we had to wait one day because it needed repairs. We were lucky that we could adjust our plans a little without problems. It seems that taking ferries as a cyclist is fairly simple and numerous locals told us that it isn't necessary to book ahead as a cyclist even in high season. In our experience that's true but this summer ferries were cancelled or delayed a few times, we don't know if these are regular problems or not.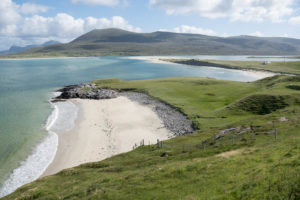 The stretch we cycled on the Outer Hebrides was the highlight of our journey. The roads were mostly singe-track and we had the impression that there is very little traffic. The different parts were very diverse. The Southern coast of Harris is hilly and rocky, a barren landscape that is almost moon-like. In the North there are sections with beautiful sandy beaches that reminded us of the Caribbean. On Lewis one can find remnants of old cultures and dwellings. Once again we had the opportunity to be hosted, this time by Barbara. She had fallen in love with the people and the whole country some 40 years ago and left Germany to live in Scotland. It was fascinating to hear of her experiences and to learn about Scotland from her.
Assynt and the North Coast until Inverness
After leaving the Outer Hebrides we cycled the last miles north, from Ullapool to the junction in Melvich. On the West Coast the road led us through the Assynt, a mountainous area even though we often weren't higher than a few hundred metres above sea level it felt almost alpine at times. Up to this point we had to climb quite a bit already and now it got a lot more. On average we had to climb around 1000m per 100km, sometimes a little less and in the Assynt a lot more than that. Also the North Coast was characterized of constant ups and downs. The coast has many fjords that stretch inland so each hill in between has to be climbed from sea level before going downhill once again.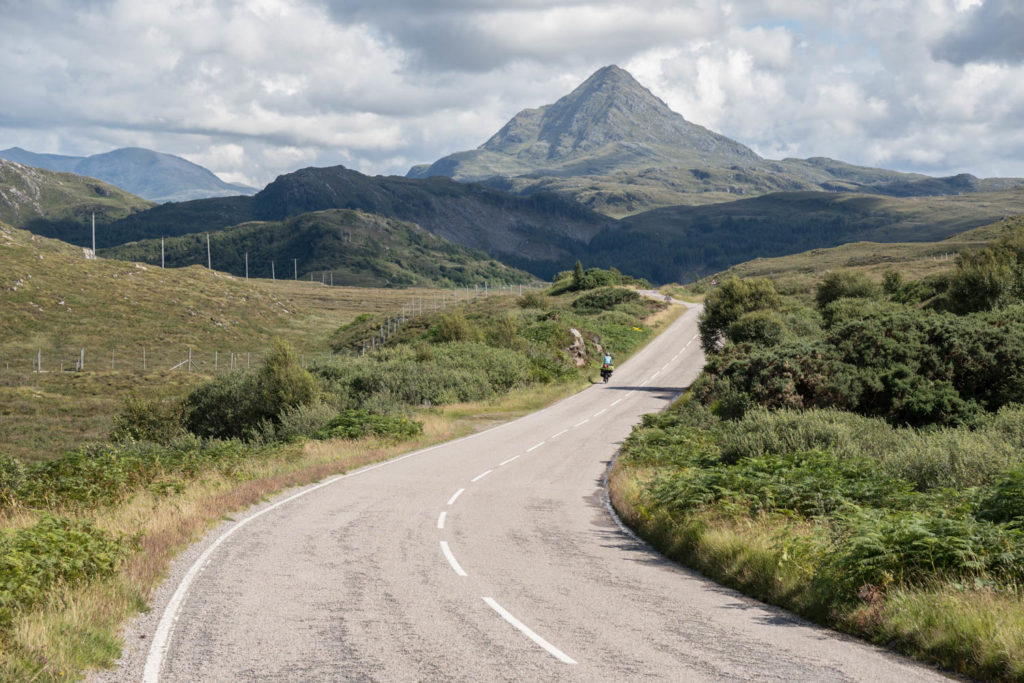 We decided to not cycle the full loop along the North Coast, mostly because of our time constraint. John'o'Groats is the most Northeastern point but we turned South a bit earlier. We've had some rainy days and decided on going to a campground to have a hot shower and to eat in a dry space. There we encountered a young bike packer who travelled minimalist. We were surprised to see that he only had a bivvy bag. He told us that he couldn't wait for his trip to end, apparently he had rain the whole week he spent in Scotland and he was always wet.
After a pretty and relaxing route south we spent a few days with Mark in Inverness who was the last host of our journey. We enjoyed our time with lots of conversations, good meals and beer and wine. It was nice to hear later on that he used his bicycle after a long time of disuse after Sami repaired his flat tire.
Cairngorms and conclusion in Edinburgh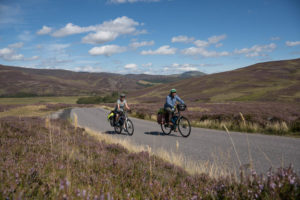 For the last stretch we had a hard time deciding which route to pick to Edinburgh. We had two options; one would be following a long valley with cycle paths, another would be following the scenic mountain route through the Cairngorms National Park. We weren't sure because the second option would mean a lot more climbing for us but ended up choosing that option anyways because the weather forecast looked really good. We were not disappointed and had a wonderful ending of our cycle tour in Scotland. The road crosses through colourful hills dotted in different shades of green, violet and pink.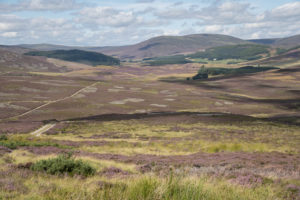 Our last two days in Edinburgh were rainy once again and so we spent a lot of time in cafés eating cake. We also savoured the local speciality Fish and Chips with ale until our stomachs threatened to burst. We spent time getting lost in the picturesque city and enjoyed having lazy times before the long way home by train.
Both our train journeys there and back were a bit uncertain, the first one because of a heatwave and the second one because of strikes. In the end it worked out well and we could take our bicycles mostly without problems in our bicycle bags free of charge. The Avanti West Coast from London to Scotland even offers free bicycle reservations so we didn't have to take them apart.
Looking back we couldn't get rid of the midges but we found our way to tolerate them, even though it mostly meant "fleeing" to campgrounds. We met many fascinating and lovely people – thank you very much for your hospitality – and enjoyed the beautiful and diverse nature.