Our holidays are over already but we really count ourselves lucky because of our long summer break. As it is we are looking back one last time to our short trip with much sun, hot temperatures and many hours both in the saddle and in the water.
We have spent the last part of our journey in Istria and cycled on to Venice afterwards where we took a train home.

Croatia is a beautiful country with lots of sunshine and a stunning sea and us two aren't the only ones thinking that way. Therefore especially the Northern part (Istrian peninsula and the island of Krk) which is close to Central Europe is quite overrun by tourists during the summer holidays. Luckily we were still able to join a few dives – some diving centres were already completely booked out for days on end. Also accomodation was hard to come by, especially simple rooms, so we stuck to campgrounds.
On some of the roads there was a lot of traffic but we always tried to choose smaller and mostly less busy ones. Cycling across the islands worked well trafficwise and often we had the roads almost to ourselves (notable exception: Krk). The islands meant higher mountains and more climbing which was at times rather challenging with the heat. On hot days and steep roads we often had to take breaks on our way up because our brains seemed to be "boiling". We were happy that we had decided to buy a new tent more suitable for summer nights. It is possible to set up only the mosquito net without the outer tent layer and we did so most nights, otherwise it would have been too hot.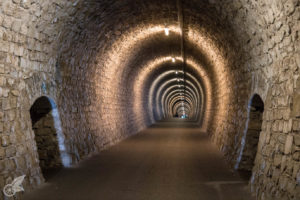 Looking back we fondly remember the beautiful hilly landscape which grew to be greener the further North we cycled, the wonderful sea, scenic medieval towns and shower sandals. It was striking how many people were walking around in shower sandals in the middle of town 🙂
Those who wanted more extravagance opted for shower sandals with flashy stones.
A beautiful moment was when one morning after we had wildcamped in a forest a swarm of little blue butterflies circled around us. We were pleasantly surprised by the short stretch we cycled along the Slovenian coast. The whole stretch had an excellent cycling infrastructure, most of the paths followed the coastline and thus we could avoid some of the climbs on the roads further inland. The highlight was when we suddenly approached a cycling tunnel! The old railway tunnel cut through one of the taller hills and was now exclusively for cyclists.
The last kilometres in Italy were flat and therefore pleasant. We concluded our trip on a campground close to Venice and visited the town of course and had a good train connection back to Switzerland. The trip back home via train worked well once again even though space was tight and our bicycle bags were always in the way (luckily nobody seemed to really mind though)…
Next week we'll be back to work and we are already contemplating where to travel next to.