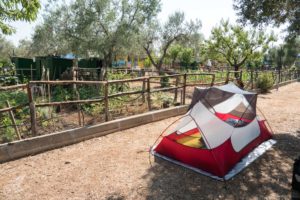 It was scorching hot and we kept to the shade on the small campground in Bari's vicinity in the South of Italy. We had put up our tent, nay, mosquito net, next to a big vegetable garden. Several inhabitants of the next town over shared the whole gardening space. From time to time some of them, mostly elderly, came to tend to their patches and to enjoy the peace and quiet. Drinking water only seemed to be available at the well in town. We met a local there who was busy filling up his canister but due to the language barrier we didn't find out if he simply preferred the well water or if his tap water at home really was unfit for drinking.
At our little garden campground we kept hearing the name Flavio along with some orders in Italian which we could only guess the meaning of. It was still early in the morning and a bunch of kids had arrived for a holiday program. A group of 15 to 20 children scattered between the garden patches and the playground. Some of them seemed to listen well to the "maestros" and "maestras", others had to be told multiple times like little Flavio…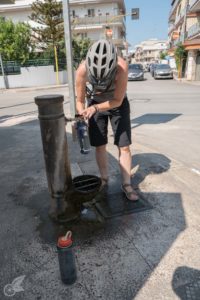 We thought back to our own work. A little over a year ago we came back from our long journey and started doing what most people do – work. Both of us had found work in the social sector, Sami as a social worker in a school and me as an educator in a school for special needs children. Now we are on the road again but this time only during our summer holidays. We are fortunate though that we have more than a month off and that we can do a decent tour on bicycle in this time.
We decided to cycle through Croatia and planned to head down to Southern Italy by train and then take the ferry across the Adriatic Sea. We want to avoid flying and rather try to reach our destinations by train and boat. It seemed like the easiest solution to travel through Italy since the train connection from Switzerland was fairly decent. Still we had to deal with travel restrictions due to Covid-19 and had to carefully check all regulations. We both were lucky to get vaccinated but it was too late for it to ease our entry to Italy. Therefore we had to get tested back at home to get our first certificate.
The train ride in Switzerland was mostly relaxed. Many trains have at least some space to store the bicycles. We had packed them into transport bags which meant we could take them without an extra charge. Some trains in Europe (e.g. our train in Italy) only allow packed bicycles. I would always recommend asking about the specific conditions at the information desk at the train station to avoid any unwanted surprises.
When we boarded the Italian train the conductors were a bit sceptical of our bags but with some effort we were able to at least store my slightly smaller bicycle in the luggage compartment and we found some space for Samuel's bicycle in the aisle. In the end it all worked out a bit better than we expected. The salesperson of the Swiss train company recommended us a connection with enough time to transfer trains in light of Covid-19 restrictions and possible border controls. The check at the border turned out to be limited but still we were glad to have more time to haul all our gear to the next platform.

In Bari we spent a night in the hostel and the following day in the city. We needed another test to continue since our Swiss test had already expired. Since we were not able to buy tickets for the ferry to Croatia in the beginning of the week we bought tickets to Montenegro instead. It would only add a few days of cycling to our planned route along the Croatian coast. What we did not take into account was the Italian police. Even before at the check-in we were already warned that we might not be allowed to exit Italy to Montenegro and when we reached the passport control we ran into a brick wall. The police didn't even bother to listen to our question why they won't let us exit to a particular country if we don't plan on coming back to Italy for weeks and if that country has no reservations about letting us in. They simply dismissed us and we understood there is no point in discussing the issue further with them. As far as we understood the problem might have something to do with the fact that Montenegro is not a member state of the EU.
In any case it was already late in the evening and since we couldn't board the ferry we had no place to spend the night. A quick online search revealed only very costly options for hotel rooms. So we searched some more and found a campground on the outskirts of Bari. Luckily having our bicycles meant that we were mobile enough to get there.
That is how we ended up waking up to a crowd of children in their holiday program. We spent two lazy days there and waited for the next ferry. Fortunately we were able to rebook our tickets and could now take a ferry directly to Croatia. We did not need another test because Croatia accepted us as fully vaccinated even though the 2nd dose was more recent than 2 weeks ago. This time the police let us pass without any problems and we could finally cross the Adriatic Sea. The ferry sailed through the night and we could comfortably roll out our sleeping pads between the seats. In the morning we reached Dubrovnik – finally we could start the cycling part of our journey and we were looking forward to island hop along the coast.