Meanwhile we have cycled through Guatemala, El Salvador, a small part of Honduras and Nicaragua. Besides Mexico those were the countries which had made us contemplate security. The homepage of the Department of Foreign Affairs gives an overview while not being exactly reassuring.
In the last blog post of Mexico Sami mentioned that he was a bit nervous when thinking of cycling through the countries to come. After a while though he felt quite comfortable, probably because he got used to speaking Spanish once again. We felt safe in those countries but the topic of security accompanied us through them:
There was an amusing incident in our accomadation in Santa Ana in El Salvador. After some time there we were chatting with one of the owners and he told us a lot of fascinating details about coffee and the current situation in his country. He was able to take away some of our fears of the local gangs (even though they can be extremely violent) by telling us how he would usually give his valuables to a white person if they were walking through the city together because while he himself is always in danger of being robbed by gang members tourists are usually only approached to practise their English.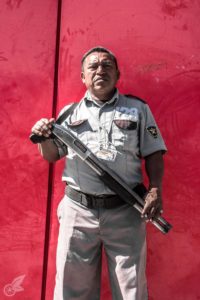 Another interesting incident was when we were visiting one of only two Walmarts in El Salvador. We had troubles locating it despite the huge sign at the roadside until we realized it was this fenced-in complex with security personnel at the entrance to the parking lot. Not only the Waltmart though was well guarded, every bank and many shops and gas stations have their own security guards equiped with shotguns. Lonely Planet writes that there is more private and armed security personnel in Guatemala than there is police. To us this seemed true as well in the following countries…
The perception of safety (or the lack thereof) still is something individual. When we reached the border to Honduras the moneychanger there said that in contrast to the US one couldn't walk the streets at night here. Probably he was comparing the situation to the States because he thought we were American. We thought back to our American host in Mexico who told us that when he was still living in the US he didn't want to got out at night because of lunatics with guns. After moving to Mexico (albeit to Mérida which is one of the safest cities there) he felt more safe. In Nicaragua the woman who runs the guesthouse we stayed at told us that her daughters could go out even in the darkness without problems whereas I (Juli) often encountered harmless but annoying men when I was walking aroung alone.
When we were still cycling in El Salvador we were touched when we visited a big family living together. A brother, the sister with her children and their mother live together and look after a few more children of their cousin (if we understood the family situation correctly). The cousin herself is in prison for the next ten years because she was involved with a local gang. She left behind her three small children and elderly mother. Security in these countries is more than being safe from violence, it also means having a reliable and stable environment, mostly through the family. Without that survival for many people is very difficult.
All in all we never had any problems in Central America thus far and we often met kind people. Security is a difficult to grasp concept when we travel only briefly through and don't necessarily make the same experiences as locals living their whole lives in those conditions without being able to protect themselves. We can understand when they decide to move to have a better future for their families. Even though we can only scratch the surface on a journey like this it seemed to us that the governments in those countries are not really in the position to protect their citizens. Whether it comes to illness, violence, retirement or unemployement; people have to find their own solutions.
In the end we have not encountered only sad stories. Even though live really is difficult here the people don't give up. We'd like to end this post with a funny little anecdote. Besides some insights into coffee and the situation of El Salvador we have learned the expression 'hacer un Suizo'. It literally translates to 'making/doing the Swiss' but it means to avoid a difficult situation or decision, just like the Swiss do…