It is the second time during our journey that we are back in the tropics. Especially Sami wasn't looking forward to it but crossing from North to South America there really is no other way than going right through tropical Central America. The days have become increasingly hot and sometimes humid and the nights are bringing only a short relief, if at all. Even more challenging than the heat itself are the insects thriving in these kind of conditions – mosquitos and even worse, bloodsucking flies and ticks. We first ran into a tick nest while still in Yucatan in Mexico and it happened a few times since then. It always takes us many days to get rid of the last tick. Our tent is not made for the tropics, which shouldn't surprise us because it was manufactured by a Swedish company in a climatic zone far from the equator. Since it is now most nights are too hot to sleep in the tent we have to look for other possibilities. Sometimes we find small shelters in fields where we can sleep for the night which always reminds us of Laos where these shelters seemed to be everywhere. Most often though we sleep out in the open and hope that it won't rain during the night.
We could go on complaining about heat, sweat and crawling insects all day long but to be fair we also get to enjoy the wonderful benefits of being here. As we are huge fans of food the tropical fruits first come to mind. We love mangos and pineapple and I discovered how delicious papaya milkshakes are. Along with exotic fruits come exotic animals. Unfortunately we often encounter them at the side of the road as roadkill. Every so often though we get a glimpse of them when they are still alive.
A great highlight has been visiting the Maya ruins of Tikal in Northern Guatemala. Even though many tourist groups visit every day the area is vast enough so that the people are spread out and it does not feel overcrowded. The whole area is
protected which means that it is also a refuge for wildlife. When we visited we were not only impressed by ancient temples towering above the tree tops but also numerous animals that we spotted in the jungle. We had been hoping for a while now to see some toucans and finally we were lucky! Guatemala unfortunately is not only about fresh fruits, exotic animals and exiting ruins, it is a very poor country and I read in our guide book that most of the land which can be  used for agriculture is owned by only a few people. This means that the majority of peasants that do the farming work only earn a small salary equivalent to about 8 US dollars per day. They cannot grow their own food and with these 8 dollars they have to feed their many children.
Usually we eat lunch in simple restaurants or food stalls along the way and one day we had a meal that we especially liked. We wanted to leave a tip to the woman who had cooked it for us and we had to insist that she accepts the money. An hour later we realized that our plan to change some US dollars into the local currency didn't quite work out. There were no money changers around and the official banks were not changing. Luckily our bellies were full and we had already bought enough water to last us for two days because for the moment we didn't have any cash that we could use. The next town where a bank might be able to change some of our dollars was a day away. Well, what goes around comes around. The next day we sat down for another lunch but before we could pay (we had found a way to change some dollars by then) another customer invited us. He and his family are originally from Guatemala but they migrated to the US and were in their home country for holidays. They next day we were cycling up a steep hill when we were passed by Rémi, a French cyclist on his way to Panama. We met up in the next town for lunch and he as well couldn't be talked out of paying for all of us. It was amazing to experience this generosity so shortly after being completely out of cash.
Our l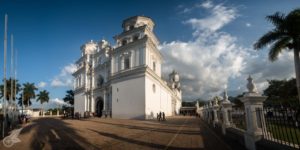 ast stop before crossing into El Salvador was the small pilgrims' town of Esquipulas. Weeks ago I had sent a message out in the Taizé network of former volunteers and Karla got in touch with me and invited us. She arranged with Padre Edgar that we could stay at the Benedictine monastery and we spent two wonderful days together, reminiscing about our experiences in Taizé and singing Taizé songs, sharing stories of our lives and visiting the area together. It was a wonderful opportunity for us to stay at the monastery because the monks managed to build a beautiful sanctuary. Often our live on the road is stressful because of hectic traffic and noise and so it was wonderful to take in the peace and quiet of this place.
By now we have reached Santa Ana in El Salvador even though one official at the border was doubtful if it was wise to let us into the country with the Corona virus situation… Finally we could convince her that we were harmless since we have been far away from countries affected by the virus for a long time and they let us in.