It has been two weeks now since we had to say goodbye to Mexico. The three months we spent there were beautiful, often intense and have surprised us a lot. Sami was thinking back to our first day in the country and how uncertain he felt and contemplating what might await us. Only few people were able to tell us about Mexico and thus our mental image of the country was mostly constructed through what we had heard and seen in newspapers and television. Oftentimes the media tells stories of gruesome violence and gangs involved in drug trafficing. We had quite a bit of respect at the prospect of cycling through countries like Mexico, Guatemala or El Salvador.
All the more pleasant it is to be looking back and to realize how positively surprised we have been by Mexico. From all the way North to the Southern tip we have passed through a wide range of climatic zones and visited stunning cities and interesting ruins of long-passed eras. Most important though were the countless amazing encounters with the people of this country who so often were open-hearted, curious and kind to us. From the first day on we had little conversations here and there on the road or when we stopped at shops and often we could spend some days with them at their homes and with their families which enabled us to gain a deeper understanding for the country and its people. Unfortunately time and again we heard of violent groups and individuals and we sincerely hope for a positive change in the country towards more peace. We'd like to take the opportunity to thank everybody for all the encounters and hospitality.

Our journy has lead us further South, we had left Mérida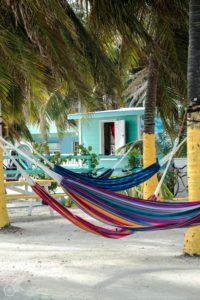 in Mexico and cycled through a region with many cenotes towards Belize. A cenote is a kind of cave with a partly or fully collapsed roof. Over time lakes have formed inside of them and they really are worth a visit. Since we had spend more time in Mérida than we had wanted waiting for the replacement computer to arrive we were itching to make some progress again and so we visited just one of countless cenotes. When we arrived in Belize we took a little break to enjoy the Caribbean one last time for the foreseeable future. We took a boat to the island of Caye Caulker and completed an advanced scuba diving course. Besides that we simply enjoyed the slow island rhythm and relaxed before cycling a longer stretch once again.
After Mexico Belize seemed (and really is!) like a tiny country in comparison and indeed we have only spent about a week of cycling through it. Nevertheless we enjoyed our time there and we were lucky to be hosted by three different kind families. Thank you very much Elden, Racquel and Arturo! Even though we didn't get to spend a lot of time in Belize it struck us as a very interesting place, mostly because so many ethnic groups are living together peacefully. A big portion of the population has African roots and some came as shipwrecked slaves from the Caribbean. They speak Creole, which to us sounded like a quite funny but difficult to understand version of English. Furthermore there are many Spanish speaking migrants from the surrounding countries. All in all Belize seemed to be a sparsely populated country which had the advantage that much of the forest and the nature in general seemed to be still pristine.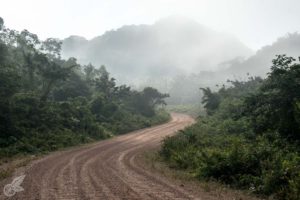 While cycling South we found ourselves on an unpaved road nearby the coast which led us through an area without much civilization. When the time came for us to look for a place to set up camp we passed a plantation with a little hut and a group of farmers and wood cutters. We asked them if we could spend the night under the roof of their kitchen since everywhere else alongside the road was only dense bush. They let us sleep there and Sami had an interesting conversation with an older wood cutter. No offense, but we were surprised by his extensive knowledge about the history of Europe and his own country and the man seemed very happy to have somebody to ask all his questions to learn more.
Another group in Belize are the Mennonites,
former immigrants from Germany, who seem to have formed tight-knitted communities in different countries around the world. We only crossed one of the settlements in Belize but we could hardly believe that we were still in the same country, it rather seemed like we were back in the US. The Mennonites had built their own separate and independent community which seemed to be as developed as a community in the US or Western Europe. The rest of Belize, though most parts visibly poorer, was nonetheless very neat. Only a few times we spotted trash at the roadside and especially striking were the mowed lawns around even the tiniest huts. This little country was truly astonishing.
By now we have cycled on and we send greetings to everybody out there from Guatemala.