---
We have thought long and hard about this, but no – in the end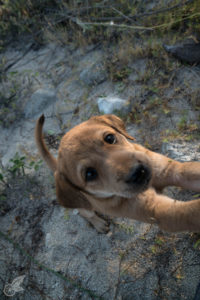 our reason prevailed and we didn't end up with a furry little companion for the rest of our journey… A dog which would have still been a puppy for a while needs a lot of care and attention that would have been difficult to provide while on the road and would have complicated the logistics as well. Those were at least the reasons we told ourselves even days after we met our cute little friend. She, her brother and their parents live in a abandoned-looking fishing hut at the shores of a lake in the Southern part of Oaxaca. By chance we chose that spot for setting up camp for the night and first encountered the famished mum. We tried feeding her with everything we had but unfortunately that was not a lot and also not very suitable for dogs. In the morning the puppies joined her for the food hunt and it took a long time before we could were able to leave them behind.
Another time our animal visitor was less cute but instead very useful. We are now more and more in areas with lots of mosquitos and other biting insects – by the way, in our opinion mosquitos are probably the only animal species we wouldn't miss if the were to go extinct, we simply have not yet seen any sense in their existence. In our case their presence means that we have to hide ourselves in the tent or put nasty repellent on our skins. However there seem to be animals who are more practical when it comes to mosquitos and are able to feed on them whilst flying. We are talking about a little bat that visited our campsite. It zipped around us and snatched the little beasts out of the air and we happily leaned back and watched the spectacle. Unfortunately though it is even more difficult to pack one of these as a natural mosquito repellent than it is to bring a little puppy along…
After a short section of road around Puebla that was more or less flat the hills and mountains of Southern Mexico started. While slowly ascending we were still surrounded by the dry landscape of cacti that by now seems to us to be the typical Mexican nature. Fortunately the people here managed to build the roads in gentle slopes compared to the sometimes grinding steepness of some roads in Asia. In those days we were often passed by convoys of trucks and cars full of people. In the midst of these was always a person running with a torch in their hand and every few hundred meters were more people waiting to take over to run a short stretch. This neverending torch relay did not seem to primarily be a sport event though – most people participating looked less then thrilled to be running through the mountains. We were told that the whole event was organized to bring the fire to the Saint Guadalupe and that it is a local catholic custom. Some of the vehicles were decorated or had images of the saint on board. It is a striking practice and all of us were happy that there was not a lot of traffic on this road.
In the city of Oaxaca we spent a few laid-back days in a hostel. We were quite lucky and there were no other guests in our ten-bed-dorm. It was nice to stroll through the historic center but still we weren't as excited by it than by some of its Northern counterparts. The region is famous for its Mescal, a hard liquor which is extracted from agave. We both like the cream version of it that is similar to "Baileys". At the hostel we met other travellers and had the first chance in a long while to chat with some.
Our next stop was colse to the next state in Mexico. In the small town of Zanatepec we could stay with Rorro, an English teacher, and his family. It was the perfect location for us to regenerate our energy a bit between strenuous mountain sections and to take a little break from the sudden suffocating heat in this area which was once again at sea level. We spent the morning of our rest day with Rorro in two of his classes to give the pupils the opportunity to practice their English. While they were quite shy in the beginning they soon warmed up and fired away with their questions. In the evening Rorro organized what was basically a "Critical Mass" – he invited all young people he could find to come out on their bikes and cycle a small round through the town. It is a cool idea to get people engaged and to promote bicycles. Thank you very much Rorro and the whole family for your hospitality and of course the delicious food!
Slowly the nature around us changed once again. For a long while we had waited for the cacti to make room for other vegetation and with crossing the border into the state of Chiapas we entered a much more tropical zone. More about that in the next blog entry.
A small note at the end: unfortunately our computer died once again when we were in Chiapas and that is the reason for the delay on our blog. It was rather difficult to replace the device and it cost us some time and a lot of nerves.