The road was now winding up the mountain once again and slowly the nature was changing. The many cacti and agave plants made room for more and more green trees, high grass and thicket. During our first day of cycling into the mountains there was a strong wind. At times it was a cooling relief in the otherwise hot sun but it still made cycling quite difficult. Towards the end of the day some gusts of wind even caused us to fall over. Since the nature in Chiapas was so lush and hills quite steep we had a difficult time finding an even spot to set up camp. However we always managed to find something – like we always had in the past 19 months of our journey. Sometimes, especially in the second part of Chiapas, we asked around, but more on that later.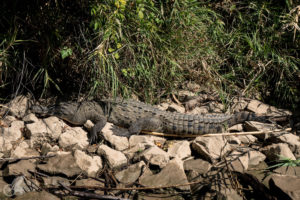 On our way through the province we wanted to stop and visit three places. The first one was the capital Tuxtla Gutierrez where we wanted to visit the Cañon del Sumidero nearby. The water has carved a deep canyon out of the mountains and is a refuge to spider monkeys, lizards and above all crocodiles. We were lucky and our experienced boatman spotted a sunbathing crocodile within the first few minutes and brought us close to it. It was a very impressive beast! After many pictures we continued through the beautiful gorge that was so deep that even during noon the sun wasn't able to touch the bottom in all areas and it was a wonderful display of light, shadows and colours. Like a well-oiled machine some friends of the tour company waited on the other side of the canyon to sell drinks and snacks from their swimming convenient store.
In Tuxtla we could stay in a Casa de Ciclista. A local bike shop had a little bit of space in their building and offered it to cycling tourists. We stayed there for two nights and met Santi, another cycling tourist from Argentina who is staying in Tuxtla for a couple of weeks. Sami was immediately intrigued by a flaxseed cookie recipe that Santi showed him. In general he had a passion for cooking and liked making things from scratch like the vegetable lasagna with homemade lasagna sheets that he prepared for us one time. He told us how it was sometimes difficult to find pasta or pizza dough in Argentina so he learned from his parents how to make those things himself.
Our next stop was after two days of cycling and 2400m of climbing in San Cristobal de las Casas. It is a nice little town with a lot of colonial architecture and tempted us to stay for a few days. Above all we enjoyed the cool temperatures in this high altitude before going down into the hot tropical region. We realized that we have found ourselves in a cacao region and at every corner the beans were offered in a variety of forms and we gained some insight into the processing (a little bit like in those chocolate advertisements, for example Lindt). In a little chocolate café we savoured a "real" hot chocolate made from local beans.
Unfortunately not everything went according to plan… On the first evening in San Cristobal Sami wanted to work on his photos on the computer when the screen suddenly went completely black. Even with some tricks and hacks the computer showed no signs of life. The only option left was to consult a specialist and luckily there was a computer store next door from our hostel. Sadly he couldn't help as well and it seems like the both of them have spent more time talking about the good old times when Windows 98 was still around or when the internet started to be a thing and how the youth of today knows nothing about computers anymore… They ended up sending the computer to Mexico City with the hope that it could be repaired there and Sami suddenly had a lot more time for stuff like baking cookies.
After some cosy days we cycled on towards Palenque, our last stop in Chiapas. Our plan was to visit the ruins and to spend Christmas there. The jungle around us grew increasingly dense and a constant dribble of rain started. The temperatures were pleasantly cool but we had troubles coping with the humidity. Beyond that we had troubles with finding suitable camp spots. The roads and hillsides were quite steep and the few spaces inbetween were inhabited or cultivated. That's how for the first time in a long while we found ourselves in the dark with no idea where to sleep and what to do. After a few minutes a young man approached us and immediately offered help. Daniel was living nearby and his brother Eliezer next door had a little bit of land where we surely could pitch our tent for the night. Thus we cycled down a steep dirt road to find the correct house and our arrival will definitely stay in our minds for a long time. When we found the right house Eliezer was already looking out the window and immediately invited us in so that we could warm and dry ourselves next to the kitchen fire and from the first moment we had the feeling of arriving to the house of a friend long-known. We enjoyed the evening together with the family and shared many stories. The children were more interested in Sami's homemade cookies but also the adults seemed to like them and said they were like Lembas, the elven bread of "Lord of the Rings" that contains a lot of energy because of the ingredients. Another essential food item of Chiapas is coffee. The beans are still white when they are harvested and only gain their darkbrown colour through the roasting process. The family was growing their own coffee and it is an important drink for the whole family. Thank you very much for the wonderful evening and your hospitality! We easily could have stayed many more days but it was time for us to continue towards Palenque.
After another night with an interesting conversation with another local farmer on whose land we've camped and a lot of coffee for breakfast (around 2 litres, all for Juli because Sami doesn't like coffee) we reached Palenque. On Christmas we visited the mystical Maya ruins and treated ourselves to a nice pizza dinner in a restaurant. It was still quite cloudy and humid and we hoped for better weather closer to the coast.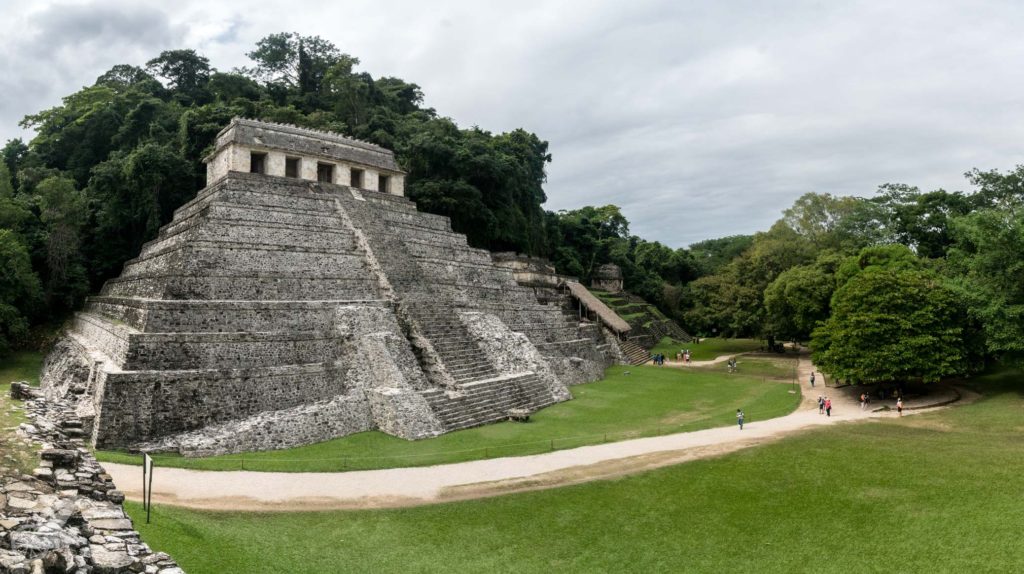 In Campeche we spent the time around New Year with Jorge and enjoyed the sun and especially the hospitality of him and his parents. We were invited to the family dinner on New Years Eve and had a wonderful libanese dinner, because Jorge's father is of libanese descent. Together with Jorge we started the new year off with visiting Maya ruins in Calakmul. Now we are back on the road for a few last days in Mexcio.
We hope that you all had a good start into the new year as well and that you are excited for what it might bring.