We have cycled on into the Mexican province of Michoacan and the highlands of the Sierra Nevada. On more than 3000m above sea level hundreds of thousands or even millions of monarch butterflies are hibernating. They fly all the way from Southern Canada across the United States until Northern Mexico. We, too, had to cover some distance first with a lot of uphill struggle and even pushing our bicycles when it got too steep.
When we reached the top it rained quite a bit. During the day the peaks around us were hidden in the mist and in the evening all those clouds dropped their water. We arrived just in time to find a cozy spot in a simple restaurant to dry and warm up ourselves. Most days in the last few weeks here in Mexico had been cooler but up in the high altitude it was do
wnright freezing in the rain. Two hot chocolates later we could feel our toes again and were chatting with the people running the restaurant. Appearently we were still rather sorry-looking and they offered us a room free of charge in one of the hotels nearby so that we could have a warm and dry night. We were grateful for the offer but the weather had improved and we wanted to enjoy the beautiful nature outdoors after all the work we had to put in to reach the top of the mountain. We did not regret our decision as just a short distance away we found a beautiful spot on an alpine pasture, deserted but for some grazing cows. It has been a while since we have last had such a perfect wild camping location. Mostly we are camping close to whichever road we had cycled that day. All the more we savoured this gem, the fresh air and absolute calm.
The butterfly sanctuaries had just opened and we were not sure if many butterflies had already arrived after their long journey. Our excitement rose when we were hiking through the forest for half an hour guided by a local elderly woman. She and her colleagues seem to be responsible for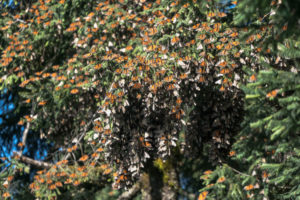 the visitors and that nobody gets lost trying to find the best spots. During our hike we saw the first butterflies high above us but we were astonished when we reached our destination at the edge of the forest and saw the trees that were completely covered with the butterflies. It was an indescribable spectacle… Every once in a while millions of them took off all at once and filled the air around us with colours and soft flutter sounds. Along with the other visitors we were stunned by this miracle of nature before we had to return all too soon to make room for the next group.
Our journey led us further East, avoiding the capital Mexico City and passing it by in the North. We were told a few times that Mexico (as it is simply called by most people here) was well worth a visit but we didn't want to cycle in and out of this mega city if we could avoid it. On the way we noticed a grinding sound coming from my bicycle and after some searching for the source of it we realized that one of the rack mounts on the frame had broken off. The only way to fix this was to find a workshop which could weld my steel frame. In the end it took two attempts to make it stable enough to last but both times resulted in wonderful encounters and once again we were pleasantly surprised by people's readiness to help us here in Mexico. The first attempt came with a token price of only 3 USD while the second mechanic refused any payment at all. Thank you very much! This meant that our journy could continue.
We had another short stop not far from Mexico City at the ruins of Teotihuacan, once the biggest city on the American continent which flourished between 100 to 650 AD (according to Wikipedia). Well preserved from that era are two large pyramids and some remains of residential buildings. We were impressed and tried to imagine how it must have been for visitors all this time ago when they had arrived here for the first time. After successfully passing by the capital we cycled South to Puebla to have another slightly longer rest. Thank you very much, Edgar, for hosting us quite spontaneously!
At last here is a small introduction into the connection between the monarch butterflies and the Day of the Dead.