When it comes to our journey we have had quite some luck. We have had luck with almost all of the people we met, we did not have any accidents, were never seriously ill and could overall handle all the obstacles we have encountered thus far. Sometimes this came with compromises and other times we could solve the problems in the exact way we were hoping to. We were and are lucky – or as once other travellers put so well – not unlucky.
One of the reason why we chose to fly to the United States after finishing our journey in Asia was that we would be able to replace and repair our worn equipment easily. What we didn't anticipate was that now that we are roughly halfway through our planned journey (well, not quite yet) a lot of our stuff would break all at once. For every piece we are both sad but also almost relieved because of the timing, we are still in an area where we can easily replace stuff and orders will arrive reliably with the post.
We chose Santa Fe as a logistical base to resupply before cycling to Mexico. On Warmshowers we found a lovely young couple who let us use their address for online orders.
Our first stop after leaving Moab though was the Mesa Verde National Park in Colorado. Unlike the many beautiful parks we have visited in Southern Utah and elsewhere this one was not only captivating with its natural beauty but even more so with the long history. People have been living in the area for more than a thousand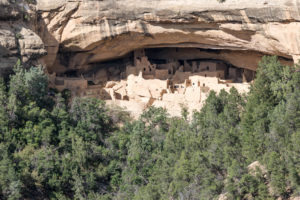 years and at one point they carved dramatic cliff dwellings out of the rock to live in. We were lucky enough to get tickets for a tour through one of the cliff dwellings and therefore got to learn more about the Puebloan People, climb long ladders and crawl through dark tunnels. Mesa Verde was also where we got a first sniff of the coming fall. When we were cycling into the park we got soaked by a quick rainshower and it took a long while to warm up again in this high elevation. In Durango we were welcomed into the home of Dylan and Sandhya and rested before the final stretch to New Mexico – thank you very much!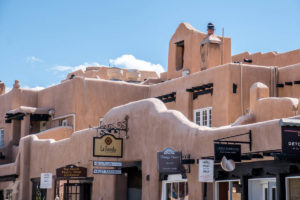 On the way to Santa Fe we chose a route around some of the mountains on the way and didn't realize that the road was a minor one. When we arrived at the junction it turned out to be a dirt road but after some concerns in the beginning it turned out to be a beautiful road and we were very happy to be cycling on it. Our spirits were a bit dampened by some rainy and cold days but eventually the sun came out again to dry our tent and to warm our skin. By the way we had been also lucky with rain on our journey thus far.
Now we are in Santa Fe and patch up our equipment and explore the oldest capital of the United States and its many art galleries. We also got to spend a lot of time with our hosts Erik and Laura – thank you very much!
Soon we will cross the border into Mexico and we are looking forward to exploring the country.