Since our start in San Francisco we have followed many beautiful national parks. That means we have spent a lot of time away from cities and urban centres with all the disadvantages and advantages that come along with that. At the moment we spend a few days resting in Moab where Elizabeth took us in. Thank you very much for your warm welcome and the relaxed time!
We have almost reached the end of our tour through the national parks and will soon turn South. The last weeks have been demanding but mostly stunningly beautiful. We had to climb many hills and mountains and were entirely focused on the natural wonders around us. Because of that we don't have many stories of encounters with people around us to tell, most of them did the same like we did and were busy enjoying the wonderful nature. Since pictures often tell a better story than words we have two galleries this time. Sami had a hard time holding himself back and he ended up having to spend hours sorting through all the photos he shot.
After our last rest in Las Vegas we first cycled to the Zion National Park. We were impressed by the shining red mountains around us which formed a narrow canyon at the valley bottom. We were lucky to snatch a campsite and decided to hike the Narrows, a canyon that has been carved out of the mountain by a small stream. Most of the hike we walked in the cold water with our sandals with turned out to be quite exhausting but also a refreshing change. The further we hiked into the canyon the more adventurous it felt. A few times the water was deep enough to submerse our stomachs and we had to be careful to not drop the camera into it.
Unfortunately the squirrels at our campground were quite annoying. Since they seemed to be completely used to people they had lost their natural shyness and knew exactly that peoople meant finding food around them. Though we had received a cooler from the campground hosts to store our food safely since we were not allowed to hang it from trees the little beasts still jumped at an opportunity to tear into one of Sami's empty panniers and also ate most of my buff.
We continued our journey and passed by Bryce Canyon and were therefore a bit higher up again which we felt grateful for since it meant a small relief from the heat on lower ground.
A bit less streneous but all the same impressive was our walk through the surreal world of Bryce Canyon. Countless red and yellow hodoos form a maze of colourful stone. Nearby we were able to freecamp and could conserve our budget a bit.
Already the route from the Zion NP to the Bryce Canyon NP was beautiful and led us through the red rocks around Zion into a flatter area. Further North we crossed through the Escalante National Monument which is an area full of white stone crisscrossed by canyons.
Another stop was the Capitol Reef National Park. It is a smaller and less overrun park compared to the others. Over 100 years ago some farmers settled in this valley and planted fruit orchards around them. What's left of that period are those orchards. To my disappointment the current picking season offered only apples, all other fruits (incl. peaches, almonds, apricots and cherries) were going to be ripe later or have already been picked.
Before visiting the last two national parks on our way North we stopped at a little town called Green River and treated ourselves to some burgers at the famous Ray's Tavern. Earlier somebody strongly recommended this place for a classic and oldschool burger – we did not need much convincing. At the tavern we got into a conversation with John who had walked across the United States with a friend decades ago. He was so happy to meet us and trade stories that he couldn't be kept from covering our bill. Thank you very much!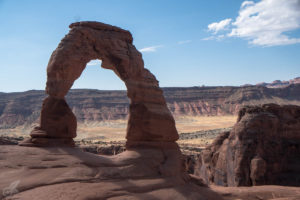 With visiting the national parks of Canyonlands and Arches we once again got to spend time in impressive environments with fascinating stones. Some view points in the Canyonlands NP offers spectacular views of canyons formed over millennia and the Arches NP has countless natural stones arches to offer, one more special than the next. Highlights were the Landscape Arch with a unbelievable thin top and the Delicate Arch which sits majestically on top of a big rock.
Most nights once again were to hot to sleep in our tent so we often opted to sleep in our mosquito net watching the stars above us.