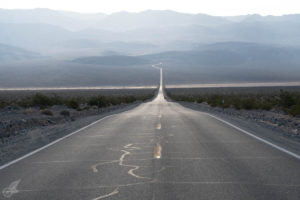 It was much too early when our alarm rang, the sun wasn't up yet and a hot and paper dry wind was blowing into our faces. Slowly some muddled memories from last night rose again. Sami had woken up to a coyote next to our camp, happily chewing on our sandals. He went after the animal only to be led further and further away into the desert, to make it worse he chased it barefoot since the coyote had the sandals.. In the end Sami managed to get all our footwear back but it took a long time to remove all the thorns out of his feet. We were in Death Valley – not exactly the route we happily chose but more the least bad option we had. After cycling down from the mountains of Yosemite Valley we entered a vast desert region with few towns. We could have cycled a bit more to the North on a highway there but we were worried about finding water along the way. The few places we had marked on our maps seemed to be either ghost towns or abandoned mines. Thus we ended up choosing Death Valley, even though it really wasn't all that appealing to us to cycle through an even hotter place. But water determined our path. Since the heat is so dry and the wind seemed to take up water directly from our skins we had to drink even more than when we were cycling through tropical Southeast Asia. The heat determined a new rhythm in the valley. In order to escape the worst of it we got up when it was still dark so we could make use of the cooler morning hours. The desert is the most quiet place I have ever been to, when I stopped cycling the only thing I could hear was the blood moving through my body. In all this vast emptiness there was surprising detail though.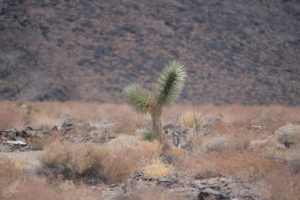 The different colours of the rocks forming the mountains around us or a little bit of vegetation on the ground. On our second day there we cycled through the actual valley which earned this place its name. The bottom of Death Valley is almost 100m below sea level thus making it one of the hottest places on Earth. Temperatures in the summer often go beyond 50°C so we were in fact extremely lucky that a rare thunderstorm passed when we cycled through the valley bottom. It rained enough to soak us completely and lightning struck a few times nearby, way too close to our liking, but it was considerably cooler and we left the valley behind before it heated up once again.
Cycling through the American Wild West felt like being in a proper wilderness. As mentioned before the population is sparse out here and that meant that we always had to carefully plan our water supply. Another reason why it felt more like an adventure than in other places was that we were constantly outside. In Southeast Asia we often booked an accommodation for a few nights when we wanted to have a few rest days. Here on the other hand hotels are much too expensive and even simple campgrounds often cost 20USD and more. Those simple campgrounds don't have showers as well and we had to wash our laundry in our pots since there are no sinks either. While we both enjoy this nomads' life and don't mind not having a shower for a few days we had to come up with a different solution. Normally we only send requests on Warmshowers if we stay with them for a while and have a chance to get to know them. After cycling out of Death Valley we reached Pahrump in Nevada and decided to try to find a host for the same evening. Amazingly Bill picked up his phone right away and invited us over. He and his sister Arika treated us to an amazing dinner and breakfast in a casino – dining Nevada style. Thank you very much!
With renewed energy we cycled the last stretch to Las Vegas where we were staying with other Warmshowers hosts for a few days. This time our hosts were a family with two little kids. We immensely enjoyed our stay with them which was as different from our usual life on the bicycles as it could be. The days passed by with playing with the little ones,
having conversations with Kimberly and James, eating a lot of delicious home-cooked meals, swimming in the pool and always being in a climate of around 20°C thanks to AC. The only time I left the house was for a visit to the Strip which is the famous central road in Las Vegas with casinos and shining neon lights everywhere. We chose the Bellagio Casino for a Buffet Dinner to celebrate Sami's birthday and were overjoyed with the sheer volume of food available. Leaving our hosts behind was difficult, it had quickly felt normal to live with them and we felt at home. Thank you so much for your generous and kind hospitality!
Our next destination will be Southern Utah and several National Parks there. On our way and still close to Las Vegas we passed by the Valley of Fire State Park. Probably it was named for the various shades of red of the rocks but it might as well have been named for the unforgiving heat there. We hope for a cooler climate once we reach higher elevations but until then we will have to bear more days with temperatures of up to 120° Fahrenheit.