Many greetings from the US, a country with feet, degrees Fahrenheit, pounds and ounces. After our adventures during the last 14 months cycling from Europe to Asia we have now started with the second part of our journey, from San Francisco to Patagonia. In a way it is also the continuation of Sami's journey two years ago when he started cycling in Alaska down South, but this time we can do it together. First we will explore America for a bit and head East to visit some of the beautiful national parks. We are looking forward to a healthy dose of nature in many variations.
The last 14 months have left us with many lovely memories but our equipment has suffered a bit and therefore it is a good opportunity to be in the States to repair and replace parts of both our camping gear and bicycles. Here it is a bit easier to find parts than in the Asian countries we've been to. That is as well the reason why it took us some time before we wrote a new blog post. Another reason was an unfortunate accident when Sami had sunken his bike including the laptop back in Thailand. We had to replace it but fortunately Sami was able to save all the data but it was time-consuming.
…being back in the States many things feel familiar but we also ran into a few surprises. Let's not get ahead of ourselves…
We were grateful that we were able to spend our first days in San Francisco with our Warmshower hosts Magnus and Jean. Before we landed they had received some packages for us with spare parts and other important items. Thank you very, very much!
The days there were filled with trips around the city trying to locate even more parts and trying to work through the jet lag. San Francisco seems to be a nice city and many big international companies are based in California. This makes it all the more astonishing that countless people are homeless, many of them camping in parks or on sidewalks and begging for money. We are of course aware that in some countries along our route in Asia many people are extremely poor, most likely more so than in the States, but never we have seen a contrast so visible and stark than here with all the Western wealth around us.
After some rest we started our trip in America with cycling up to Yosemite National Park which lays a few days of cycling to the East. On the way we planned to pick up a cheap SIM card and had it preordered to a shop which we would pass by on the way since it didn't seem to work to buy this particular one straight from the shop…
…Hence began our SIM card disaster…
After two days of cycling we reached said store which should have had our order ready for pick-up. We were informed that it had not arrived yet and would even take another week which was way too long for us to wait around for. We then had to do the cancellation ourselves on the phone, apparently it was not possible for the employees to do that… After some back and forth we settled on a different SIM card they had in store and were assured repeatedly that this one would work just fine.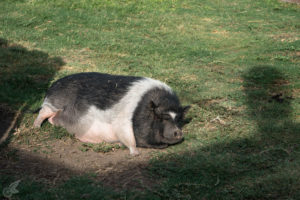 It had gotten late in the meantime and we still had at least an hour to cycle to leave the urban area of the city behind us and to hopefully find a spot to set up camp. It did not seem possible to find a spot and in the end we plucked up courage and asked a couple working in their garden if they knew of a place to camp in the area. After a short consultation with her husband Dave Tracy invited us to set up our tent in their yard. When the SIM card still didn't work the following day they offered us to drive us back into town. We gratefully accepted but it took more than two hours to sort the issue out in the store and when we were finally done it was already quite late to cycle on. It has never been that difficult to find a cheap SIM card that works properly…
…The big benefit of this whole mess was that we got the chance to stay a second night with Tracy and Dave and enjoyed spending more time with each other and having hot dogs and BBQ and meeting some of the fun relatives.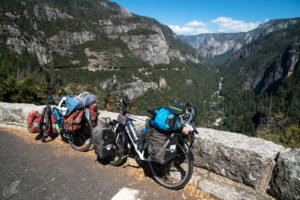 A few days and quite some difference in altitude later we reached our first destination, the Yosemite National Park and were therefore for the first time in a long while back in the mountains. We were told that the bears here are smarter and more daring than in other places and that they even manage to break into cars in order to find food. For us that meant to be careful and to store everything in safe places.
Above all though we were delighted to snatch a campsite for 3 nights in Yosemite Valley. Campgrounds within the national park are usually booked out a year in advance but the ranger at the park entrance searched the entire system for us and managed to spot a cancellation. Because of that we had the time for a day hike and didn't have to rush through. We hiked the Panorama Trail up to Glacier Point to have a fantastic view of the Half Dome and strongly recommend this route as it passes by a few wonderful waterfalls a
nd offers views of impressive peaks.
The rest of the time we spent cycling slowly through the park. Towards the end we spent another day at the Toulumne Meadows before we did the final climb up Tioga Pass at just below 10.000 feet (3.000m) which was both the highest point of our route through the park but also of our whole journey to date (we had reached the higher Thorung-La Pass in Nepal on foot).
It is wonderful to now be able once again to communicate with everybody around us. Many people encouraged us and asked us where we came from and where we were heading to. We've noticed and were a bit amused by the fact that to many Americans it is more inconceivable that we would ride all the way from San Francisco to Texas than our previous journey from Europe to Asia. Many people don't seem to be able to judge the distances. Luckily we had the chance to explore this part of the world ourselves and for sure it deepened our understanding for it.