A strong tailwind helped us climbing the mountains in the Kon Tum Province of Vietnam. An elevation gain of around 4000 metres lay between Hoi An and the Cambodian border. Fortunately it was spread out across a couple of days. The road kept on rising to about 1000 metres above sealevel. Thanks to the wind the heat while climbing was for once bearable but still we were looking forward to racing downhill to cool ourselves. Especially Sami was suffering under the heat and the restday halfway was therefore a welcomed break. Another motivation was the knowledge, that this would be the last mountains to cross for a while since both Cambodia and Thailand would be mostly flat.
The road to Cambodia still held some challenges for us though…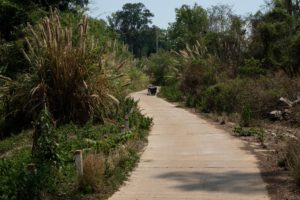 Somehow the minor road marked on our map (and as well on Google) kept on disappearing from time to time. At first it was a proper road with tarmac, but suddenly it dissolved into a gravel road with fist-sized stones that made it nearly impossible to cycle on. Sometimes the road had concrete slabs which were not very comfortable for cycling but still at least fit for traffic. With considerable effort we finally reached the border and were happy to have the chance to explore a new country. We were a bit surprised but still relaxed when the Cambodian border officer tried to take a few extra Dollars for our visa on arrival. Funnily enough he was really nice about it and told us right away that we wouldn't have to pay him the bribe if we didn't have enough money – corruption with a social streak! We opted for paying just the regular fee of 30 US-Dollar per person and the officer didn't seem like he was part of the poorer population of the country anyway.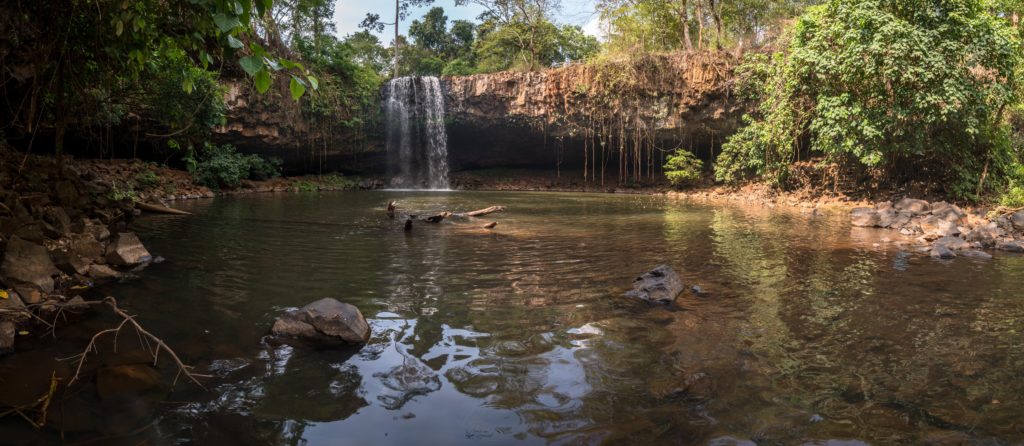 Our first stop in Cambodia was in Banlung. It is a small town in the green East of Cambodia, already discovered by mainstream tourism but not yet overrun. The surrounding area sports some waterfalls and a volcanic lake and is perfect for a little break. On the way to Banlung we had met the owner of one of the resorts in town. We had already booked an accomodation beforehand but he still invited us to visit him and to use his pool.
We got along brilliantly and had the feeling of being home at his place. We enjoyed the relaxed atmosphere and interesting conversations. And he treated us to the probably best pizza in the whole of Southeast Asia – thank you so much for your hospitality!
The relaxed days passed all too quickly and in the end we had to force ourselves a little bit to continue.
We decided to take a rather direct route trough the country and to therefore not visit the sea or Phnom Penh in the South. There is a fairly new and paved road from Stung Treng to Siem Reap and a bridge crossing the huge Mekong river. We didn't regret our decision because the road was impeccable and with only little traffic.
Slowly the dry season ended and the rain started. Often it rained hard in the evening or night. It was still too hot to be comfortable in the tent and therefore we hoped to find shelters on fields like in Laos. Unfortunately we were not able to find any as it had been already the case in Vietnam and so we stopped at a small pagoda on the first evening after Banlung. An older monk seemed to live there with a group of young novices. We were a bit uncertain but still asked if there was a place where we could spend the night and were directed to a corner of the pagoda. These pagodas quickly became our new favourite places for sleeping. We have always encountered very friendly people there and were never turned away. Some pagodas even seem to be specifically equipped to host travellers.
Aside from many friendly people we have encountered many dogs as well. For many cycle tourists dogs can be troublesome or even frightening. When we were still in Vietnam and also here in Cambodia not a single day went by without being chased by dogs while cycling. Oftentimes they would start barking loudly already from a distance and these we could easily deter but some who were sneaking up on us silently gave us nasty shocks. One method that always worked for us was to slow down or stop abruptly or to shush them loudly (maybe shouting would also help). Most of the dogs were scared of us and gave up quickly when we intimidated them. Luckily also the dogs didn't like the heat as well and many were simply too lazy to chase us. Another dog problem came up one evening when a monk brought back one of Sami's sandals which was half-eaten by one of the strays there.
We had forgotten to consider that some dogs seem to like to chew on old and smelly shoes…
After all the dogs and pagodas we reach Siem Reap. We were happy that we had been already prepared for the price of the entrance ticket of Angkor Wat – 40 US Dollar per person and day is rather steep for us and we could usually buy food for the whole week for that. The ticket price has doubled in the last two years which isn't surprising considering the crowds this temple complex attracts on a daily basis. We wouldn't be able to begrudge anyone the experience, it really is impressive. We spend a whole day on our bicycles and explored the huge area. Luckily we had lovely and dry weather and seemed to have hit the low season. Aside from Angkor Wat the other temples were less crowded and were interesting to explore as well.
Despite the beginning of the wet season the days remained incredibly hot and we are now even sweating when we are simply cycling straight on. Let's see how the weather will change when we approach the coast in Thailand.