Vietnam held some surprises in store for us. Usually we have a bit of an idea which places to visit and naturally we know about entry regulations beforehand. A lot of other things remain unknown to us. We were looking forward to Vietnam because we've read about a couple of highlights which would be conveniently located on our path through the country.
Like we have mentioned in an older post it always takes us some time to find out how to acquire what we need when we arrive in a new country. Most importantly how we get water and food – of course many countries work similar in that way but some details always turn out to be different. The first days here were a bit frustrating. Finding lunch turned out to be surprisingly difficult, especially since we only wanted a simple plate of rice with vegetables. On top of that we had some unpleasant encounters with Vietnamese people at first where they were very loud and intrusive. In comparison to Laos Vietnam is a lot more densely populated and they don't build shelters in their fields which posed a challenge to our camping aspirations.
…we needed to take a step back and tackle one challenge after the other…
On our first day we were a bit disappointed but with a lot of effort we managed to find a spot to spend the night – on a cemetery. This seemed to be the only place where nobody was living and where the was no rice field. Later we realized that there are many cemeteries in Vietnam. Before and after our side trip to the Phong Na Ke Bang National Park we followed the (by comparison) sparsely populated coastline North of Da Nang. There is a long strip of sand and forest along the ocean and some Vietnamese seemed to have erected monuments for themselves. There were tombs in all sizes and with different elobarate decorative styles. Some seemed to be the final resting place for multiple generations and were as big as family homes. Often we were surprised by the sheer magnitude since most of the people didn't seem to be very rich.
Our first sighseeing destination was the Phong Na Ke Bang National Park. It is a bit inland in the foothills of the mountain range which stretches North to South through the whole country.
It is a truly beautiful place. Unfortunately it is not possible to go hiking independently in the park and the offered tours were too expensive for our budget. Therefore we decided to cycle a loop through the park and to visit the Paradise Cave and the Botanical Garden on the way. The Paradise Cave was one of the most beautiful caves we have seen so far. It is warmly lit and has astonishing natural elements. In the Botanical Garden we were able to at least go for a short walk through the jungle and to savour the green nature around us. The hostel we stayed in laid at the river bank so we could easily go swimming when the heat was unbearable.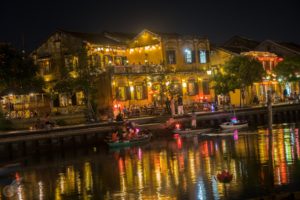 After visiting the national park we cycled on to the city of Hue in which there is an ancient residence of the former ruling dynasty. The residence was much bigger than we had expected and so we spent half of the day wandering around inside the maze of walls, parks and structures. Each corner had something worth exploring to offer and it was a good opportunity for Sami to take lots of photos.
Our touristic highlight though was Hoi An which is an old port town and nowadays is a bit of an open air museum. Aside from many old buildings there are countless cafés, restaurants and shops and it could get a bit overwhelming. Especially in the evening though, when at every corner colourful paper lampions shone, we were entranced.
When we were cycling off the beaten track between those tourist attractions we spent many nights outside in our mosquito net. The spots kept getting more and more beautiful and often we were surprised by the beauty we had found. Only the heat was still a big problem for us especially in the mountains when we had to cycle up steep roads.
After our difficulties in the beginning we were happy to be proven wrong about our first assumptions and Vietnam even turned out to be one of our favourite countries on this journey so far!
Not only the attractions made it a special place but we encountered many very friendly people here. One of our most special memories will be celebrating Easter with Van in Da Nang. Van made sure we had a place to stay with friends of hers and we were able to take part in several church services around Easter. Thank you very much for this time!
…Yes, one step after the other: Vietnam was at its best especially after we had a somewhat difficult start…