The transition from Myanmar to Thailand was more drastic than we had expected it to be. We had already known that Thailand had more tourists and that therefore many (western-style) conveniences would be present once again. However we were surprised by how big the difference between those two countries actually was. Two weeks of cycle touring through Thailand have given us the strange feeling of being back in Europe even though we had mostly visited areas with little tourism. Particularly striking were the seemingly omnipresent 7-eleven stores which offer convenient snacks and more importantly: insanely sweet (and cold) coffee or Thai tea and ice cream. Apart from that also bars and cafés were common once again even in smaller towns. Since we still wanted to make progress we had to pass most of them though. Another striking detail was that the road conditions were significantly better than in most Asian countries we had passed through on our journey and even more astonishing: there were traffic lights and people are abiding by the traffic rules! The traffic was orderly and we had already forgotten how nice this can be.
It makes sense to mention that we had indeed missed a few things. For example we missed spending some time in a nice café simply relaxing and enjoying. I had missed good coffee and Sami had missed cake and ice cream. All in all it was nice to have these comforts available once again.
Still – despite all these comforts – it was still an adventure to travel in Thailand. Especially when it came to communication. Few people here speak or understand English so we had to be creative in making us understood. For example we took pictures of food we liked and showed them in the restaurants in order to get the same meal. That has been an easy way to solve the food problem already in Myanmar and of course we would only take pictures when we really liked it. Even though we were dimly aware of the fact that Thai food back in Europe didn't necessarily equal authentic Thai food here we had still hoped for eating lots of Red Thai Curry with vegetables. Instead we were surprised to find out that most dishes seemed to come with various meat items. We were a bit disappointed because we had been looking forward to the Curry but the noddle soups and rice dishes with meat are tasty as well.
Our most favourite food items in Thailand have been fruits. Astonishingly mangoes are as common as are apples back at home. Apples in comparison to mangoes are quite expensive. Mangoes and pineapples are delicious here and there are many more funny looking fruits that are unknown to us.
On our first round through Thailand we were only able to spend around two weeks in the country since we first wanted to cycle a loop through Southeast Asia before returning for another month. This first leg lead us to Sukhothai. There we had met up with friends from Germany and we visited the ancient ruins and temples together. It was wonderful to meet friends from home time and to be able to spend some time together. Thank you for bringing us a few items which will make our trip a lot easier from now on!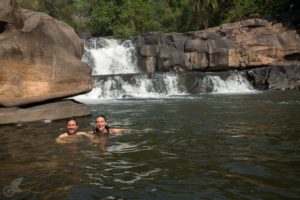 Aside from visiting Sukhothai we spent most of our time on the road and tried to avoid the big main roads. Since even the smaller roads are in an excellent condition it was way more exciting to follow these instead of the highways. Those roads have lead us to some wonderful places. One afternoon we passed several water falls and enjoyed a refreshing bath in one of them which was amazing in the heat! At the end of a long day in the saddle we found a little lake off the road and we were happy to discover that the water was actually clean enough to go swimming and that we would have a wonderful spot to camp on right next to the lake. Our last night in Thailand we spent in a small village. We had planned to camp next to a lake once again but unfortunately upon arrival we realized that the lake only existed on the map anymore. We had no other choice but to continue even though we were already rather exhausted. In the first villaged we reached afterwards we went to the temple and asked with gestures if there was a place for us to sleep. To our surprise one of the monks went to fetch an elderly woman who led us to a little house outside of the village where we could spend the night.
All in all it really seemed like we had reached paradise in Thailand.