The time has passed quickly and now we are already sending greetings from Thailand. The 28-days visa has rather limited our stay in Myanmar and we had to chose few places to visit. What made our time management even more difficult was that Sami fell ill before we reached Bagan. We had cycled through the mountains and struggled with bad roads which took a lot of energy and for the first time we were forced to hitchhike with all our stuff. After resting for four days we hoped that we could now pick up our old speed again. Unfortunately though Sami's energy was spent after the first day back in the saddle and we decided to take a bus to the capital Naypyidaw and take a break again there. Three more days of resting and taking antibiotics finally got Sami back on his feet and we could cycle on.
We took the brandnew expressway South and reached Hpa-An quickly. There is much to be discovered in the surroundings of the city. On the way there we visited a beautiful small monastery which clings to a huge boulder. At the entrance are hot springs both for visitors and for the monks. Climbing many steps we reached a cave above the monastery with many golden Buddha statues. Around Hpa-An we visited two more monasteries built in a similar way. One was famous for its cave with hundreds of thousands of bats which fly out of the cave in the evening. The other was part of a larger cave with different decorations and statues in the inner part. One morning we took a boat across the large river which passes by the city on its way to the sea and walked up a small mountain with a wonderful view of the region. The climb was a bit unpleasant though because in the upper part we had to use some shabby ladders. We also struggled with the heat and were surprised by how much water you can actually sweat out.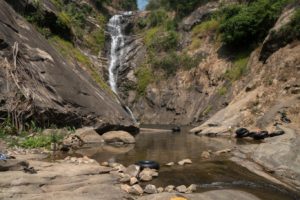 The remaining distance to the border of Thailand was short and we had enough time to take half a day of and relaxed in the cold water of natural pools of a beautiful waterfall in the mountains. Thank you Monkeyon2wheels, who brought this little gem to our attention.
During our time in Myanmar we did not only enjoy the touristic attractions. The encounters with the people were often wonderful. Despite the huge language barrier we often found a way to get in touch with the locals. One time we had to stop to fix a puncture at Juli's bicycle and without hesitation a boy went to fetch a new tube of rubber solution for us. He didn't want any money for that, he simply saw that we were about to run out of rubber solution and wanted to make sure that we had enough!
Many peculiarities also amused or amazed us. The Burmese style of make-up is a yellow paste made of bark that they apply to their faces in creative patterns. Another striking detail was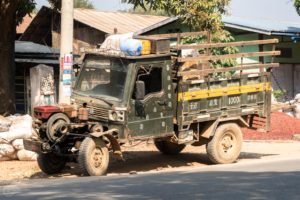 that almost everyone wears a skirt including the men who wear a wrap-over skirt. Outside of the cities the houses and stands were built with simple and natural materials like wood, bamboo for pillars or woven for walls as well as palm leaves to cover the roofs. Much seemed to be still both natural and traditional in Myanmar. Since the country is very lush we never had troubles finding a decent campspot for the night and therefore it was the best country in terms of camping for us until now – despite the official camping ban for tourists.
Another peculiarity was that even though the country has right-hand traffic most of the vehicles seemed to be designed for left-hand traffic. Maybe that is because of the neighbouring countries India and Thailand which both drive on the left?
Our time in Myanmar has been short but all the same very fascinating. Now we will cycle for a short while through Thailand on our way to Laos.