It has been a while since we have last had a story to post. After our hike around the Annapurnas we had wanted to take a break and Pokhara was the perfect spot for just that. We have found shelter with a young family close to the city centre. Aside from farming which is something that most people here seem to do, many also have their own small or bigger businesses. It ranges from merchants who are moving around with carts or on bicycles offering fruits or diverse selection of everyday items to shops, restaurants and hotels. All in all this seems to be the reason for the multitude of roadside shops that can be found on each and every corner.
We were glad to have found a cosy temporary home for a week. Pokhara is a tourist hub and therefore offers many amenities like little cafes to sit and watch people passing by or restaurants with Western food. We enjoyed the break and passed the time with eating a lot of sweets and watching movies. Every morning we made pancakes filled with fruits, chocolate and peanut butter. In the evenings we usually went out to one of the very affordable restaurants and quickly became regulars among the local crowd. We ended up spending New Year's Eve in the guest house because after a short walk through the utterly crowded touristic city centre we preferred to have some peace and quiet. After all as soon as we would be back on the road there would be more than enough opportunities to encounter people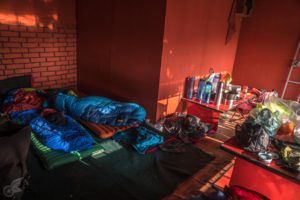 In the New Year we got up the energy to continue and were soon on our way to Kathmandu. Compared to Pokhara it seemed to be more of a cultural centre and we were looking forward to exploring the city. Through Warmshowers we have found a host who owns a small restaurant on the outskirts of Kathmandu. He is part of a local cycling association whose members organize excursions in the nearby hills and also campaign for better cycling conditions. His restaurant as well functions as a meeting point for his cycling friends.
Right after we have arrived we were invited to join some local festivities. A member of the community has turned 80 and there is an old tradition of having a big cheerful party when that happens. Old and young people met and we shared food, (strong) drink and stories. Unfortunately we didn't really get to the sightseeing part since I (Juli) have had diarrhoea for a while already and after our arrival in Kathmandu my condition worsened. I had to stay in bed for most of the time and was not able to explore. After a couple of days and with medical advice from home I decided to take antibiotics. Sami was out and about but apparently after constantly being with each other for 8 months he didn't enjoy it as much anymore to be on his own. Often he was able to join our host for his various errands that took him to random parts of the city. That way he didn't get to do the typical sightseeing but rather a deeper insight into the life of the locals in the area around Kathmandu. Thank you very much Azzu for hosting us in Kathmandu! We have felt warmly welcomed and were happy to be able to stay with you and enjoyed our time despite the circumstances.
After a week I finally started to feel better and we were able to continue – first slowly making our way out of the hills and mountains and then on towards Northeast India. On our way we passed by Bhaktapur which is a wonderful and well-preserved medieval city with many old temples and red-brick buildings.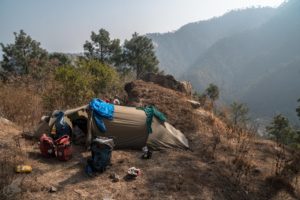 In order to leave the hilly areas of Nepal behind we first had to complete a lot of elevation gain. Soon Sami started feeling very exhausted and he realized that he must have lost some of his endurance during the long break. Probably he also came down with something because of bad water or food, who knows… But despite best efforts and a lot of motivation we could not cycle out of the mountains at a stretch like planned but were forced to take a break. A day later he felt better but still not completely restored however we were able to cycle again albeit slowly. A few days later I felt sick and weak again as well and once again we were forced to quit our cycling day early. It seemed jinxed and we hope that soon we'll pick up some speed – anyhow we think we had enough rest for now.