We stopped in a small village on the way to devour another one or two of these deliciously sweet little balls. After a few minutes an elderly man with a big smile asked us "are you enjoying the smoke?". Indeed – eversince we have left Lahore the smog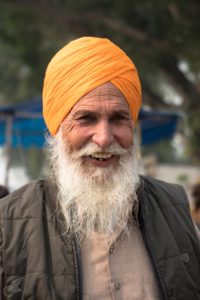 and filth in the air has constantly increased. In order to reach New Delhi we chose to follow smaller roads instead of the main highway in the hope of finding less traffic there. The roads lead us through rural areas with lots of agricultural fields, villages and some cities. It seems like we were just in time for the harvest and the subsequent stubble burning. Columns of smoke rose everywhere around us and the air changed into a thick fog. Thus we started a conversation with this friendly man, chewing the sweets.
On the way many people started talking to us on the side of the road. Most of the time they wanted to know where we came from and where we were heading to. And of course many of them wanted to take a selfie with us. The Technical Revolution had reach India a long time ago and apparently it has become normal that everybody absolutely wants a selfie when they see something interesting or uncommon. To simply take a conventional photo is not enough for most and so it happens multiple times each day that people are trying to stop us forcefully even when we are riding at full speed. We decline in a friendly manner and ride on. Unfortunately we often have communication problems in India as well because we don't speak or understand any of the hundreds of languages around us. At the same time we are often surprised when encounter somebody with fluent English speaking skills that we would have not expected from that particular person, like when we met this friendly elderly man.
Our journey in India had started in the Punjab province. The Sikh religion is predominant here and its members stand out because of their colourful clothing and especially because of their turbans. It was a paradise for Sami, full of opportunities to take pictures of beautiful and impressive faces and colours and so he has been asking to take pictures a lot on the way here. One time we had stopped in the middle of nowhere at the side of a small road and we have met an old farmer. Sami already considered how to best approach him for a picture when his brother showed up and – to our surprise – started talking to us in perfect English. He had worked abroad in different places when he was younger but liked living in India most and therefore decided to come back and stay here.
In the North of the Punjab Province is a city called Amritsar and in its old town is the most important temple of the Sikh religion. After crossing the border from Pakistan to India this was the first place we visited. We were both impressed by the colourful dresses of those visiting the temple and of course also by the buildings itself, which had been designed beautifully. In a huge inner courtyard is a big lake of holy water and in the midst of it the Golden Temple. Like other Sikh temples (Gurudwaras) it offers accommodation and meals to pilgrims and travellers for free or on a donation basis. Another evening we ended up in such a temple by chance. We had asked around for a possibility to spend the night in town and we had been brought there. We were accompanied to the guru and together with around 15 students we drank some milk tea, ate biscuits and answered many questions about our journey and of course took countless selfies with them. We had thought that we might stay in the small room next door and to roll out our mattresses on the ground there but apparently the guru found us likeable and decided to bring us to his former house where only his sister was staying. The next morning we returned to the temple and received scarves as a blessing for our continuing journey. It was a touching moment.
Aside from the many nice and funny encounters we sadly had one night of bad luck. Since the region we were cycling through is very densely populated and the air quality is extremely poor right now we decided to rent cheap rooms rather than camping. One evening we stopped at a small roadside restaurant which offered simple rooms as well. We did not have any need for luxury so we stayed there. The door to our room was a bit damaged and we couldn't close it completely or lock it. Until around 2am this did not worry us at all. But right around that time I woke up to a man groping me. After a moment of shock I started screaming at him and a second later Sami was awake and immediately started to chase him. The intruder was too quick to be caught and fled. The next morning we were very surprised to recognize him among the staff members. When I confronted him about what he did the night before he just grinned smugly and didn't offer any explanation or apology. On our way we encountered a police patrol and decided to report what had happened. Although it was at first difficult to make ourselves understood they ended up being very motivated to help us. After listening to our story they decided to go back together with us so that we could point out the intruder. Unfortunately he must have finally realized that we might not give up as easily as he had
hoped and he had fled in the meantime. At this point we would like to thank the police of Haryana and the people who helped us by translating back and forth.
Fortunately we could process and put behind us this deeply uncomfortable situation and were soon ready to once again enjoy ourselves and discover more amazing aspects of cycling through the country. Meeting many extremely curious but also very friendly people has helped us a lot. So from time to time we keep encountering people who speak some English and ask us many questions but are also ready to share some stories.