"Change" triggered an almost automatic chain of actions after two days. Grabbing the panniers, heaving them out of the vehicle, followed by the bicycles which often resisted being taken out of their wedged positions.
Both the German and the Swiss department of Foreign Affairs warn of dangers on the road from Kerman in Iran eastwards for individual travellers using their own vehicles as means of transportation. Armed drug smuggler gangs are using the stretch coming from Afghanistan, but maybe it would still be OK to travel there by motorcycle or car. But on our fully loaded bicycles we would have been far too slow to outrace them if any problems occured so as a result we opted for the bus to reach the border of Pakistan.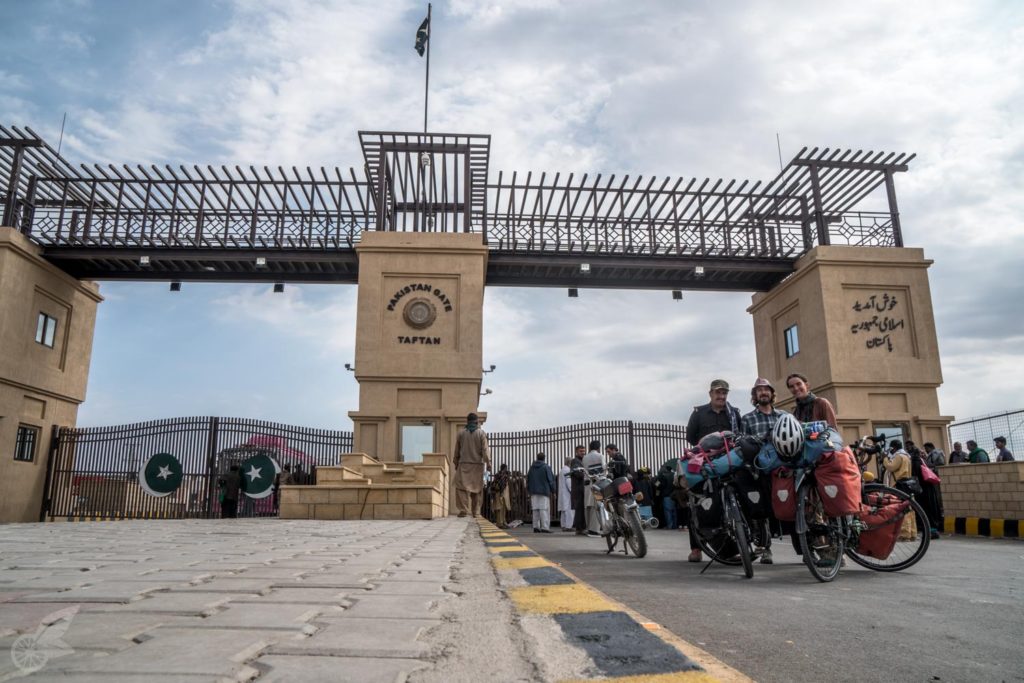 After a night in the bus we arrived in Zahedan close to the border between Iran and Pakistan, the bus does not continue any further than that. The only option left for us was to hire a taxi to the Taftan border crossing for 15€. To cycle on this last stretch of road is not advisable and as we heard from other cycle tourists you would be stopped anyway.
Crossing the border was a smooth procedure not least because compared to the many pilgrims around us we seemed to receive a privileged treatment which sped up the whole process considerably. On the other side we were escorted into a run-down station of the Levies, a police-like paramilitary group in Belochistan. This group was our main escort through Belochistan during the following days.
After one day of waiting our journey in Pakistan started early in the morning and during the day we reloaded our luggage approx. 5 to 8 times (unfortunately we forgot to count) from one cargo area on a pickup truck to the next. Late in the evening we arrived in Dalbandin, a small city in the middle of Belochistan. All travellers with an escort are to stay in a particular hotel which seems to constantly jack up the price. At first they asked for 20€ which might not seem to be a lot but given how shabby the whole place is it was a very optimistic demand on their side. There was only cold water and since the drain did not work properly the water simply flowed into the room. In the end we only paid 10€ – we had agreed on even less but we had no possibility to change any money and this was the smallest bill we had with us.
The second day we changed our escort vehicle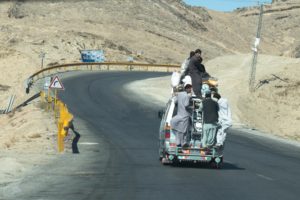 around 15 times, mostly pickup to pickup. Once a normal passenger car pulled up instead and we were truly flabbergasted how they managed to pack our 2 bicycles and 8 panniers and 2 backpacks into the trunk. Our favourite ride was in a bulletproof army vehicle of the police in Quetta. With some luck we were allowed to stay at the police station in Quetta. Normally they have the same system like in Dalbandin and all travellers are to stay in the Bloom Star Hotel who try to take as much money out of their 'guests' (or prisoners as one Irish motorcyclist joked) as possible as we heard from others. Another benefit was that staying with the police made the process of getting the official document for the ongoing travel (NOC) from the Home Department easier. Or to be more precise it made the escorted travel back and forth a lot easier. In the whole province of Belochistan travellers have to be with an armed escort at all times. In Quetta it was even more complicated as the city is divided into many different police districts and whenever we crossed into another one we also had to change the escort vehicle. Getting from the police station to the Home Department thus meant multiple time-consuming changes.
Obtaining the aforementioned travel document (NOC) took us 7 whole hours. Even now we are absolutely clueless what took them so long and what the officers did or didn't do during all that time. Another day has passed and we were happy to be able to take a train out of Belochistan to Multan the next day – to be finally free and independent again.
But also in Multan we were received by the local police and it quickly became clear that they did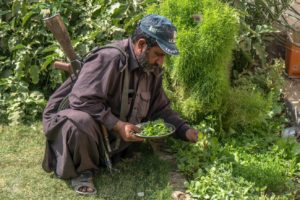 not want to let us go. Again they tried to put us into an expensive hotel. With a lot of perseverance we finally worked out that the police did not intend to let us travel freely and even forbid us to cycle to Lahore. Finally we gave up and took the next train to Lahore at the border to India. Aside from a few very fascinating conversations with some police officers and Pakistani fellow passengers on the train we didn't see or experience a lot in this country. Even in Lahore we were only allowed to stay in a few selected hotels (most sent us on our way) so we decided that we would leave soon.
During our journey we have heard of two incidents: one Iranian border post was attacked and there was one failed attempt to bomb a train. Both did not concern us directly and we both would say, that despite all we have felt rather safe at all times. Nevertheless we wouldn't necessarily recommend this route. Passing through Belochistan seems to be relatively safe at the moment (but of course bad luck can always strike and attacks do happen regularily) but above all it simly was a very strenous endeavour. We mostly didn't know what was going to happen next and often it was very difficult to communicate with the people around us as English is only rarely spoken well. Therefore we would recommend to take other possibilities into account before taking the route through Belochistan.
---
More information on crossing Belochistan:
A French cyclist crossing Belochistan
Information about the border crossing and Belochistan on Caravanistan.com