We are sitting on a comfortable couch in a guest house in Kerman. Later today we will take a bus to the border of Pakistan and it is a natural moment of reflection. We are looking back to what we have experienced during the last two months.
As we have mentioned earlier in our blog posts Iran has an important culture of hospitality and most Iranians we meet seem to be extremely curious. This means we get to interact with many of them every day. Although we believe that most people we encounter are good and want the best for us it doesn't necessarily mean that what they believe is good for us is what we actually need or want. As a result it can be very exhausting.

After two months in Iran we still hardly speak any Farsi and the majority of Iranians' English vocabulary seems to be "Hello, which country?". Not having a common language is a huge constraint and makes explaining misunderstandings very difficult. I can only remember one incident when we felt that we could actually resolve a situation with google translate. An older man had attempted to touch my face and instinctively I had fended his hand off and said something to him in German angrily. He then seemed miffed by my reaction even though Sami and I know exactly that it is very unusual for a man to touch a woman in this culture. Aside from that it is still my decision if I want to allow such a touch or not. Our guess was that the man thought that different rules apply since I am a woman from the West but we hope that we could explain him via the application that this was not the case.
Incidents like these – especially when we have no chance to resolve them because they pass too quickly – made it difficult for us to enjoy our time in Iran wholeheartedly. We have still met great people and enjoyed our conversations with them a lot but most of these very positive encounters had two conditions: having enough time and a common language (or at least a meaningful attempt at understanding each other). Since we are constantly moving we meet many people but we don't always have enough time for these encounters. At the same time it takes a lot of our energy to constantly deal with the people around us and to not be able to escape their attention.
So it was a nice change for us to visit some of the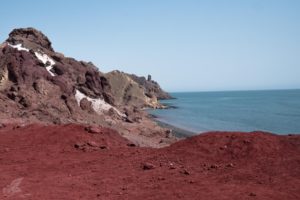 places popular among tourists in Iran. After the desert city of Yazd we had cycled to the poetry city of Shiraz and visited ancient Persepolis on the way. In the first weeks in Iran we had the chance to visit the Caspian Sea in the North of the country briefly. Now we could complete our traverse with a short trip to the Persian Gulf and the colourful Hormuz Island in the South.
Iran was a country of many contrasts, challenges and full of interesting details. Some obstacles were surprisingly easy so overcome and in other situation we couldn't understand why it is so complicated when the solution was so obvious to us. Of course we know that some things are working differently in various places and that people have diverse approaches. So in the end cycling through Iran has proved to be an interesting albeit exhausting exercise in patience and flexibility.
We are looking forward to discovering Pakistan and India next and are curious how we will deal with the cultural differences there.