Since our last blog post we've advanced quite a bit into the East of Turkey and are currently in the city of Van which is also our last stop before entering Iran. After leaving Cappadocia we traversed stunning mountain passes to Malatya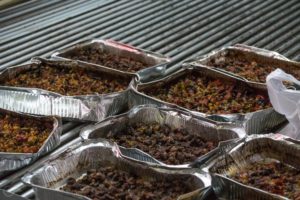 where we've spent a few days couchsurfing with Yildiray. As our host he made sure to make us feel as comfortable as possible and was very enthusiastic about showing us around his city and its surroundings. It came along with inviting us to some fancy restaurants. We are still getting used to this aspect of hospitality as we realize that we are not used to accepting these kind of invitations very much. For us it was more enjoyable when one eveninv we simply ordered some meat from the butcher and had it sent to a bakery around the corner where they then freshly baked Pide and Lahmacun in their huge stone oven as well as grilling some vegetables. Thank you, Yildiray, for the beautiful and culinary rich time in Malatya!
Afterwards our path lead us to Eastern Turkey where the majority of people are Kurdish. In the region of Tunceli, which offers the beautiful national park along the Munzur river (Munzur Vadisi), we found a Couchsurfing host on a farm for a few days. Before arriving there though we had to cycle a few kilometres and to climb a lot of exhausting elevation, but right at the start a civil police patrol friendly but very insistently invited us to the police station. There we were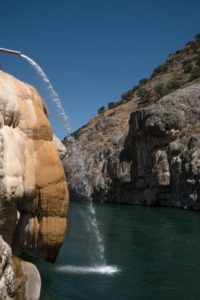 questioned for nearly three hours and our bags and Sami's camera were searched. With time it began to dawn on us that they must suspect us to having connections to terrorists or that we support them in any way. If the situation hadn't been so serious we would have just laughed disbelievingly. In the end they let us continue – maybe they arrived to the conclusion that we would make for very ineffective terrorists with our average speed of 15kmh… Finally we arrived a bit late due to the days' events and met Candan and her family on their farm. From the very first moment onwards we felt at peace and very soon as well at home. Our days at the farm were mostly quiet and peaceful and lent us the opportunity to regain our strength. Of course Candan and her dad did show us around their favourite places as well. Together we drove along the river through the beautiful Munzur Vadisi National Park and visited a holy place for Alevi muslims close to Ovacik. At this spot many springs stream out of the foot of a mountain which is a genuine treasure in this otherwise rather dry region. On another day we drove through the mountains to relax in hot springs for a few hours. At the women's pool there was even live music when every once in a while a group of elderly women started singing Kurdish folk songs. A big thank you, Candan, for your lovely hospitality!
Looking at our map a huge volcano crater named Nemrut Dagi caught our eyes and quickly we decided to take another break there. Naturally there was some elevation to climb before reaching the edge of the crater and marveling at the gigantic nature. Inside the crater a few lakes had formed and we were able to camp next to an improvised 
tea house. The owner of it wasn't actually our host but still it didn't change the fact that he made sure that we lacked nothing. He invited us for dinner, showed us a spot in the lake with warm water to wash ourselves at night and massaged our aching backs and legs. Unfortunately in the second night two other visitors took advantage of this hospitality: we had shared a melon as dessert and he had scattered the remaining peels nearby for turtles. Sadly that didn't attract turtles but instead two black bears showed up who were on top of all not shy at all and were not to be chased away which meant an uneasy night for us.
This natural style of hospitality of the many people we have encountered in Turkey is touching us anew. It is a beautiful way to focus on the encounters and to become close to one another. In our blog entries we only ever tell a fragment of what we have experiences – but it is amazing that probably we wouldn't really advance anymore if we were to accept all the invitations for drinking tea together…