…Overcoming some scruples Sami did make it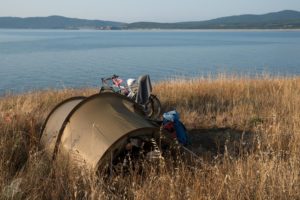 into the Black Sea for a quick swim. We had followed the coastline further South and found a beautiful spot to camp on top of some cliffs, and a tempting spot to bathe in the ocean. Appearently this spot was also popular among locals to jump from the cliffs as throughout the whole evening many of them came to enjoy the view. They assured us that the water was deep enough below the cliffs but even though many seemed to contemplate jumping down, nobody did.
Unfortunately there is no official border crossing between Bulgaria and Turkey at the coast, which meant that we had to make a detour through the mountains to reach another one more inland. Even though that route was beautiful it was also rather strenous as we had to cover a lot of elevation. It seems that the hills will stay with us in Turkey as well.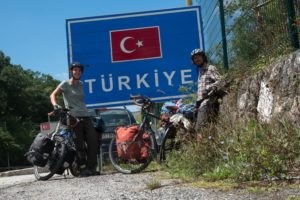 On the third day after leaving Nessebar (Bulgaria) we reached the border and another two days later the city limit of Istanbul (Turkey). It was a wonderful moment which we have been looking forward to for a long time. Taking the first step into Asia and reaching Istanbul was a milestone on our journey. The most important part of this was not crossing the border into Asia or to have completed a certain distance – indeed we had been looking forward to this moment much more because we were longing for the Turkish food and even more for all the sweets that we had been dreaming of and were now finally within our reach: Baklava!
Our days in Istanbul have been shaped a lot by delicious food. Everywhere there was something tasty to be found. From simple cooked corn as streetfood to a fish barbecue fresh out of the sea. The fish we had tried on the Princess Islands close to Istanbul. Together with our host Kemal we cycled along the Asian side of the Bosporus and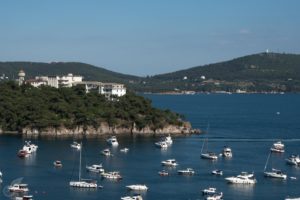 then on one of the Princess Islands. That way we could partly escape the busy crowds of Istanbul for one day. Along the coast there is a long pedestrian and cycle path which invites many people to enjoy the waterfront. There are no cars or motorcycles allowed on the Princess Islands so for once we could ride our bikes without the extreme caution that the otherwise very busy traffic usually demands. In the evening we enjoyed a fish dinner. Since we couldn't really imagine what the fish would be like when the waiter listed them we were invited into the kitchen to see for ourselves. They pulled open a drawer and showed us what they had and then we just pointed at the ones we liked. It can be as simple as that.
More sweet treats are to be found at the Grand Bazaar. But in fact the Grand Bazaar consisted mostly of jewellery and fancy decorations (for our tent?!) whereas the Spice Bazaar, called Egyptian Bazaar by the locals, offered many sweets and spices. All around the covered Grand
Bazaar many other businesses are offering a wide variety of goods. It seems like half the population of Istanbul is in this tight space and so we had to wiggle our way through the crowds and enjoyed the buzz. Here and there were small cafés and tea houses to be found in which we could take small breaks. Since many shopkeepers cannot afford to take many breaks it has become a lucrative business to some to walk around with tea glasses and pots to serve them. At the Spice Bazaar we chatted with a shopkeeper who spoke German very well and who enjoyed telling us about his spices and sweets. He offered us many pieces of Turkish Delight across his assortment and we left packed with a heavy and expensive box full of them. That was our intention of course.
Needless to say we did not only spend our time eating even though it was an important part of it all and we would definitely recommend visiting Istanbul for that very reason. Other than that we found the cultural diversity, architecture and people wonderful and interesting. It seems like people from all over the world are coming to Istanbul and it is appearent in the potpourri of the city. Apart from many mosques there are churches and in Hagia Sophia, a former church in Konstantinopel, there are still images of Christian tradition to be found even though the building has functioned as a mosque during the Ottoman Empire. There are women who are completely veiled and there are others who wear belly tops and mini skirts and then there are all clothing styles inbetween. This resulting plurality is intriguing and fascinating to us.
We enjoyed the time with our Warmshowers Host Kemal a lot. He gave us many interesting insights about the city and people and showed us around. Through him we got to enjoy a Turkish tradition called 'meze' which is similar to Spanish tapas. We met up with some of his friends and spent the whole evening sharing many appetizers, a bottle of Raki and stories. Thank you for an unforgettable time!
Unfortunately we have to say goodbye to Istanbul. We'll be cycling further East and are excited to see more of Turkey before moving on to Iran. We were able to receive the visa and are now able to plan the next steps.
For the Swiss among our readers we have a small surprise which we discovered here: they have Migros (a Swiss supermarket chain) here! It's unbelievable, but it has been founded in Turkey as well a long time ago and it seems to be a popular supermarket. For Sami it is a small reminder of home while he is far away from it…