Our joy was abundant when we first tasted the salty air of the Black Sea. After five days of crossing the beautiful Carpathians and the flat lands until the coast we enjoyed the change of scenery. We decided to take the direct path to the ocean because much of the nature has been dominated by lots of green, trees and hills with flat episodes in between since we have started cycling in Germany a few weeks ago. Watching the endless sea now gives us new energy. That's why we have tried to follow the coastline as much as possible, which was often made difficult by the lack of coastal roads. And if they existed they often led through touristical places with enormous hotel complexes and countless souvenir shops.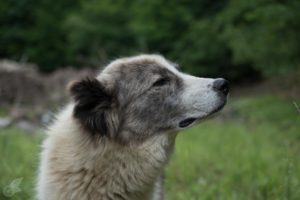 Our last days in Transsylvania and the Carpathians were very calm. We had planned to cycle the stretch to Constanta in five days and to have a restday there. This routine was interrupted when we noticed that an important piece of our camping stove had gone missing. Juli decided to hitchhike back to the last spot where we had wildcamped in the hope of finding it again there because we were pretty sure that we must have lost it then. She hitchhiked alone because she would find rides a lot easier and Samuel could stay with our tent and bikes. Still there was a bit of uncertainty if Juli could get there and back in one day because the route was difficult to hitchhike and more than 300km there and back. In the meantime Samuel stayed with our stuff and became friends with a friendly stray dog. The wait was long but after ten hours Juli reappeared with the missing piece of equipment. With it we could continue cooking and our four-legged dog friend got some leftovers as well.
In Constanta we said our goodbyes to Romania and enjoyed the stay with our wonderful host Valentin. With him we shared our love for good food but could only make pancakes for him once, the other two times he insisted on cooking delicious and specials meals for us. Also we want to thank Milen who hosted us in Varna (Bulgaria).
In between we were wild camping and found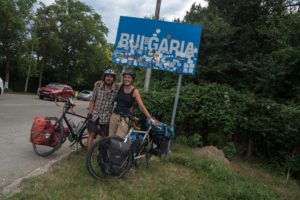 two very beautiful spots right at the coast. Especially the first time we enjoyed the view, the soothing sounds of the waves and the golden sun rays until the very last moment. The second spot we found thanks to Milen. Many other people were there, both locals and other travelers. The nearby offical camping didn't seem to draw many people compared to our nice, idyllic and free wild camping spot.
Before cycling the next five days to Istanbul we decided to stay at a campground for once. After we had crossed the Carpathians in Romania the temperatures were much higher 
and cycling up and down hills meant a lot more sweating. Therefore an evening shower became even more appealing. When we wildcamp we try to keep ourselves as much clean as possible with washrags and some water. This works well enough but doesn't compare to a hot shower. Speaking of hot showers – the water in the campground shower unfortunately wasn't hot at all and especially Sam suffered because of it. He really dislikes cold water and doesn't even swim in the sea, because it's not 30 degrees Celsius…