Aside from much sunshine and lovely green nature around us we had some amazing encounters during the last stretch of our journey. Right now we are in Eastern Hungary close to the Romanian border visiting a Taizé friend of mine and her family. They are living at the edge of a small village and have a big and beautiful garden. We were welcomed with a Hungarian stew which they had cooked over a campfire. The days of our visit we spent with exploring the famous zoo of the nearby town of Nyíregyháza, a trip to a market, attending a Hungarian greek-catholic mass and enjoying the peaceful and relaxing atmosphere of the village. Much of our time spent together were filled with discussions at the dinner table in which we learned a lot about the peculiarities of the different home countries. Thus we decided to stay for three days to have more time with each other.
When we had still been in Budapest we visited other friends of mine – this time a young couple living in a small, cozy appartement on the edge of the city centre. Also with them we enjoyed our time very much and spent two evenings with delicious food and conversations about everything under the sun. One of these evenings we spent in a group of six with friends of them and interesting conversation topics like plans of migrating to the States and the pros and cons of working as a model. Their friend shared stories of her past as one working in Hungary, Europe and Asia with us and told us about this exhausting job in a sometimes unhealthy environment. It entailed working long hours mostly spent standing and being invited to events primarily as decoration. In her opinion this could produce a contorted perception of the world especially when the models are still very young teenagers. In her case she used modelling as an opportunity to travel and to finance her studies in the field of journalism which is what she is working in nowadays after she had graduated and left her modelling career behind.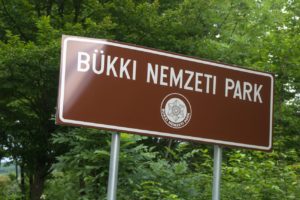 The days between Budapest and the little village in the East have been marked mostly by a lot of sweat. For that reason we were trying to camp in places with an access to water but unfortunately were not able to do so in the last few days. That meant that we would always carry a small amount of extra water to wash ourselves in the evenings. In the region around Miskolc is the Bükki Nemzeti national park. It lies in the hills and seems to be primarily known for its countless caves. For us it meant that we had to cover some difference in altitude. Shortly before arriving in the park it had rained which meant that the climate awaiting us in the hills was both hot and humid.
We had made plans to reach a place we had found 
on the map beforehand which seemed to be suitable for our needs. According to our map and very much elating us there should be a source nearby. The spot was even better than we had dared to hope with a fresh water source (even though the small tickling of water was not really enough to bathe in it) and a roofed shelter in which we could spend the night. There even was something akin to a toilette nearby.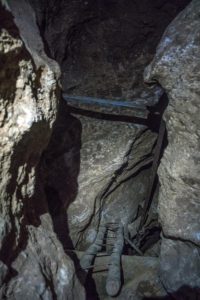 After a comfortable night in the park we continued to Miskolc. Sami had found out about cave spa in town and we were looking forward to trying them out. On the way there we stopped at one of the many caves in the park and ventured into it. We were surprised to discover that it seemed to be a rather deep one and since already shortly after the entrance we were facing a very slippery ladder leading down five metres into a dark hole we ended up turning around and going back to daylight. The cave spa in Miskolc exceeded all our expectations in the evening. When researching we were looking at pictures online but didn't quite trust them and rather expected only a small cave and not the large maze-like complex that it turned out to be. Amazed we roamed the caves and enjoyed the spa which made for a great and relaxing completion of the day.
Our travelling was only hindered by time and again occuring signs that would prohibit cycling on these particular roads. We never knew which roads would be marked that way and which ones we'd officially be allowed to cycle on – there was no way of knowing ahead of time and we could not estimate it either because one time a main road would be prohibited for us and another time a rather small one. Some of these roads we then tried to skirt but in other cases we simply decided to ignore the ban since we were not able to find an alternative in order to get to where we wanted to. Funnily enough the only roads that were never marked were the highways…
Now our time in Hungary is coming to an end and we are curious to see what is awaiting us in Romania. At this point we'd like to thank all the hospitable people who took us in!