We arrived at Budapest (Hungary) and it feels like we've been travelling for a long time already. Despite the slow speed of cycling many things seem to rush by much to quick, maybe we should push our bicycles every once in a while…
Two weeks ago we left Salzburg to continue to Linz (both Austrian cities) and therefore we reached a section we've already yearned for: the Eurovelo 6 cycle path which follows the river Danube. The big advantage of this section is its flatness that would give us some rest until Budapest.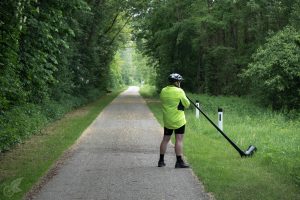 After the first ups and downs it was nice to follow and enjoy an even path. Our legs as well were glad about this change. Often we were surprised how diversified the cycle path was – sometimes flat and wide, then looping through hills or lush forests, at times leading us through pretty little villages and at others through big cities. After crossing Austria we cycled on the Slovakian bank of the Danube. Slowly the paved roads turned into dirt roads every now and then. But they had always been well mowed at least! It definitely did not get boring for us. We still met fellow cyclists on the way, once even a Swiss man who was playing on his foldable alphorn at the riverside.
Oftentimes we spent the nights in our tent right next to the Danube. We had heard that nobody would be bothered if we wildcamped along the cycle path.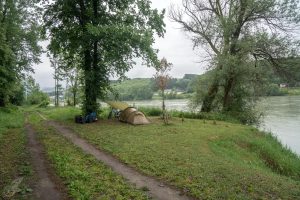 One evening we had some difficulties finding a place to set up camp and so we ended up asking a farmer who sent us straight to a bank, appearently he was very much used to cyclists like us looking for a secluded corner. On our way over to said spot we met an eldery couple who were the ones taking care of that place as a hobby as it turned out. It was freshly mowed and even decorated and they happily invited us to stay there! On other days we found pretty and well hidden places as well and we could swim in the river undisturbed and enjoy our time. Especially swimming or at least washing ourselves in the river was wonderful. After two days of rain the sun came out again and brought back summerlike temperatures.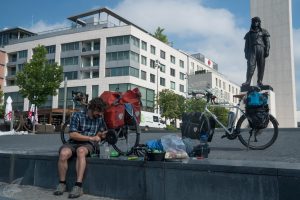 It is brilliant to travel in conditions like these albeit sweaty in the heat.
In Vienna (Austria) we spent three days roaming the city and relaxing our tired legs. Alex, the brother of a friend of mine took us in. A big thank you for the bed, engaging discussions and the kitchen! With our two pots and gasolin stove we try to be creative and to have some variety but pizza would have gone beyond the scope. Also we were pleased to have been able to make some elderflower sirup. Before reaching Vienna we had collected elderflower and after letting them sit it in water for two days we could brew some tasty sirup.
With Marek we spent an evening in Bratislava (Slovakia). He hosted us through the hospitality network of Warmshowers for one night and showed us around – thank you, Marek! Sam did not expect much of the city but was pleasantly surprised by it's charming little alleys and small cafés. We thought about staying a second night but at the same time we felt like moving further because we were planning to spend some time in Budapest. Questions arose like: do we have a time schedule? Do we have to move on right now? How much distance do we want to cover and how much time do we want to spend in one place? These questions will rise from time to time and are not easy to answer with finality. Right now many changes are happening relatively quick and every few days a fascinating town is waiting for us which probably reinforces our impression of travelling quickly even though we are only cycling…