It is difficult to believe that it is only the beginning of May… The first days on the road have brought us lovely sunshine and warm temperatures. These conditions made us quickly forget the hardships of cycling during the first days. Together we started bike touring again after a six month break, this time we cycle East for as long as our bicycles will carry us.
The first nights we spent wild camping which is technically illegal, but it worked fine anyways. Two times we were even able to ask permission, if not from the owners personally but at least we tried. Of course we acted according to the principle 'take only pictures leave only footprints' which is the motto in Canadian national parks.
Soon we had done the first kilometres and Salzburg (Austria) lay ahead of us. This meant both crossing our first border and having a first break. The break came along with a small adventure with our Warmshowers hosts. Unfortunately they had locked themselves out the day we arrived and of course that meant we weren't able to stay at their appartement. On top of that they already had invited two more guests who were friends who spent the day climbing in the mountains. In this situation it was not easy to find a place to stay for six people spontaneously. Luckily a friend of them invited all of us into her shared appartement. We could store our bicycles at the Foodninjas company, a bicycle courier service in Salzburg and sleep in said appartement. On our second day in Salzburg our hosts left their flat to us – thank you very much!
We enjoyed our day off with some sightseeing and ice cream. Particularly ice cream is always very much appreciated!
Our first stages led us through the last hills towards Linz (Austria). With a great desire for French fries we headed for a kebab place when suddenly Sam had a flat tire. Before we wanted to enjoy the food we decided to do the work first and repare the tire. Soon the owner of the kebab place came out to see what was going on and offered us cold drinks for free. Also a gentleman enjoying his drink infront of the bar next door bought us a beer. It was an amazing gesture of hospitality that we even got the French fires and burgers for a much cheaper price and on top of that they gave us two burgers instead of the one we ordered!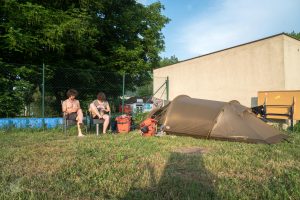 Now we arrived at the bicycle track along the Danube river and will follow it in the days coming – first until Vienna (Austria) and later until Budapest (Hungary). We are enjoying our smooth start and are curious about what will happen in the next weeks.